The body of the 14-year-old teen-age boy missing in connection with the apparent murder-suicide in Hermiston was found outside of town shortly after 8 p.m. Thursday by law enforcement.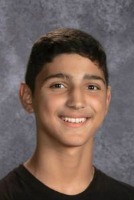 Hermiston Police Chief Jason Edmiston said the body of James Hurtado was found by Oregon State Police detectives in a remote, rugged area outside of Hermiston. The Oregon State Police Crime Lab has returned to the area.
"Because it is believed the homicide of James took place well outside the service area of the Hermiston Police Department, the Umatilla County Sheriff's Office is the lead agency for that portion of today's horrific events," Edmiston said.
The Hermiston School District issued the following statement early Friday morning after learning the teen's body had been found:
"Today is a sad day for the Hermiston School District. We are heartbroken to know that James "JJ" Hurtado was found dead yesterday. JJ, an incoming freshman and student athlete, participated in cross country and wrestling. Our thoughts and prayers go out to the family, coaches, staff, friends, classmates, and others that are affected by this tragic loss. A crisis flight team will be available at Hermiston High School today and Sandstone Middle School, to provide support services to those that may need assistance in dealing with the loss."
The tragic discovery of the teenager's body comes hours after an apparent murder-suicide in Hermiston around 11:18 a.m. Thursday morning.
After responding to a report of a shooting, Hermiston police found two people dead inside a house at 130 N.E. 11th St., along with a female with a gunshot wound. The two dead were Jason E. Huston, 45, of 31293 Morgan Lane, Hermiston, and Kenneth E. Valdez of 130 N.E. 11th St., in Hermiston. Valdez was found dead from a gunshot wound and Huston was found dead from what is believed to have been a self-inflicted gunshot wound. Both men were volunteer wrestling coaches at Hermiston High School.
Police soon began looking for 14-year-old James (JJ) Hurtado of Hermiston. HPD said the teen is related to one of the parties involved and was last seen with Huston this morning around 10 a.m., when he was picked up in Umatilla. According to the HPD, Huston said he was taking the teen to McNary Park in Umatilla to play Frisbee golf.
Edmiston said detectives likely will be working the investigation until the early morning hours.