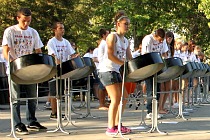 Bram Brata and the Riverside High School cheerleaders will perform a free concert on Monday, July 28 at Boardman Marina Park.
The show is part of Boardman and Irrigon's Music in the Parks summer series. The concert begins at 7 p.m. The next free concert will be Monday, Aug. 4 when Brady Goss performs at Irrigon Marina Park.
For more information, call 541-481-3014.