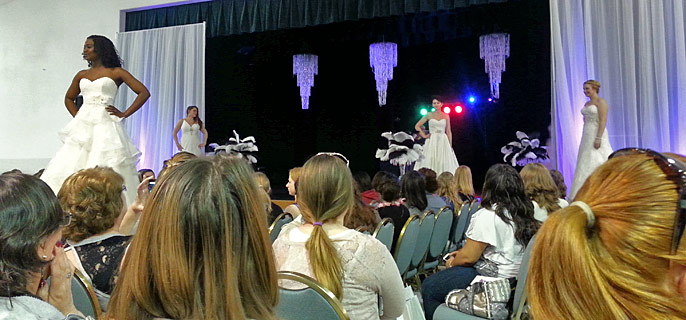 Engaged women from Hermiston and the surrounding area were greeted with brightly colored leis at the entrance to the Hermiston Conference Center on Sunday.
The brides-to-be had ordered their free tickets online for the Eastern Oregon Bridal Show — sponsored by H&M Photography; Uniquely, I Do; and Dragon Entertainment. They and their guests spent the afternoon perusing the booths of various local vendors for information, wedding ideas, and chances for prizes. These vendors included Cakes Be We, the Enchanted Meadows, Jamberry Nails, Ellen's Chair Covers, and Dale Haven's Fantasy in Ice.
At 2 p.m., the fashion show began, showcasing bridal gowns, bridesmaid dresses and flower girl dresses from Amy's Bridal Boutique in Kennewick.
After the fashion show, Stacey Miles, producer of the Eastern Oregon Bridal Show, asked the audience not to leave their seats just yet.
"Those of you who have been to other events of ours know that we like to play a game of musical chairs," she said. Miles proceeded to call several brides' names from the list of women who had ordered tickets. The selected brides then played musical chairs onstage.
At the end of each round, the chairless bride accepted a gift from one of the vendors. Several women received cupcakes from Cake & Co. Some received handmade jewelry from Timeless Talismans. The winner of the game chose her prize: a free engagement photo shoot courtesy of H&M Photography.
"I'm a wedding officiant," says Miles. "That's how I got started in the bridal show business." The event used to be called the Hermiston Bridal Show. "I was approached by the producer and asked if I wanted to revive it."
This is the Eastern Oregon Bridal Show's third year. It is held twice per year — in Hermiston in the spring and Pendleton in the fall.
Miles was very happy with Sunday's turnout.
"Brides are e-mailing me months in advance asking, 'When's the next show going to be?' "
Miles said the show's vendors are looking forward to the next event.
"Half my vendors have come up to me today saying, 'Sign me up for the next show!' "
"Stacey's really easy to work with," says Kris Bennett, owner of KRISanthemums floral design studio. "She makes it easy to be a vendor." Bennett has participated every year since the Eastern Oregon Bridal Show began.
"Generally, brides who come to the bridal show want to come, so it's nice to have an audience who wants to talk," said Bennett. "Everyone has such different ideas. It's fun to be able to work with all the different personalities."
Miles and the vendors appreciate the time, effort and money that brides put into their weddings.
"We always let brides get in for free," she said. "We feel that's our way to give back to them."
For more information on Sunday's show or to contact Stacey Miles, visit the Eastern Oregon Bridal Show website.
More Stories From Northeast Oregon Now:
Echo Prepares for Influx of Bike Riders Saturday
Oak Ridge Boys Phil Vasser to Appear at County Fair
SAGE Center to Hold Job Fair on March 5
Cold Front Moving Into Area Today
u