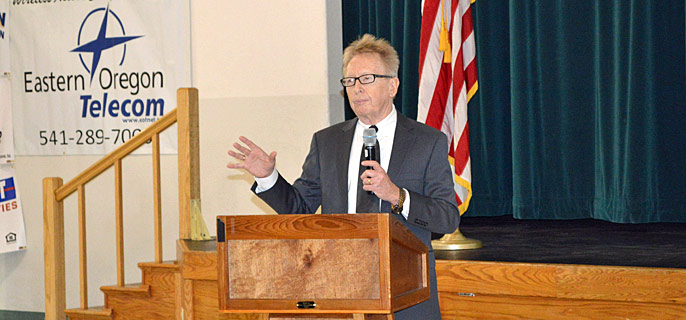 Ed Brookshier may be well into his final year as Hermiston city manager, but he won't be coasting to the finish line.
On Tuesday, Brookshier outlined the city's objectives for 2014 and they promise to make for a busy year. Tops on the city manager's list is finding his replacement. Brookshier said a position profile will be developed next month and he expects The Prothman Company – the search firm the city hired to recruit city manager candidates – to have a final list of candidates by early summer.
Brookshier also touched on some of the city's major capital projects for the coming year, including the completion of the $25 million recycled water treatment plant that will replace the city's current 30-year-old system. The city manager said the new system should give the city 50 years of service.
Brookshier said he is excited to see the progress of the Oxbow Trail project which, when completed, will feature a 6.6. mile walking and biking trail that will go from Elm Avenue to First Street, down Highland Avenue to 17th Street and back to Riverfront Park. The dedication of the trail will be on May 3.
The city's urban renewal district is expected to start bringing in revenue in November. The aim of the urban renewal district is to revitalize the downtown area and attract new retail businesses to Main Street. The budget for the district has been set at $2.5 million and will pay for a festival street along Second Street (estimated cost of $900,000), a façade grant program ($500,000), jump-start loans ($200,000), and parking improvements ($200,000), among other projects. Funding for the projects will not come from new taxes. Instead, future increases in tax revenue from existing taxing districts will be shifted over to the urban renewal district for the time in which the district exists.
Brookshier said the city could "pre-fund" the façade grant program to allow downtown improvements before the district has the revenue to fund it. The pre-fund would be in the form of a loan from the city that would be paid back once the district begins bringing in revenue.
Ongoing projects highlighted by Brookshier on Tuesday include the Eastern Oregon Trade and Event Center and the Eastern Oregon Higher Education Center.
Brookshier said there is no secret formula to Hermiston's growth over the years.
"There's a reason Hermiston is successful and other cities aren't – we work at it," he said. "Creating jobs is hard. He said the key to continued growth is continued industrial development and ensuring water is available for the area's ag producers and new development.
"If I had to say what it's all about, I would say it's those two things," he said.
Finally, the city manager talked about the city's new brand logo, "Hermiston: You can GROW Here."
"We kind of think it says a lot about what this town is," he said. Then, making a reference to a group proposing to open a medical marijuana facility on Main Street, Brookshier closed with this:
"You can grow here – except certain types of substances."
More Stories From Northeast Oregon Now:
City Says It Will Oppose Proposed Medical Marijuana Facility
City to Seek Funding for New Hermiston Senior Center
FedEx Crash Closes I-84 Lanes Near Pendleton