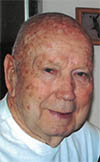 Jesse D. "Bud" Holden Jr. of Hermiston died on Sept. 7, 2021 in Hermiston at the age of 94.
He was born on Nov. 6, 1926 in Baker City to Jesse and Ida Bales Holden, who were both born in Baker City in the 1890s.
Bud married Ann Walker in 1946, and they had two daughters, Pamela and Betty Sue. Ann died in 1970. In 1971, Bud married Minnie "Peggy" Brunick and gained a stepson, Robert "Bob" Brunick.
Bud was always interested in Oregon pioneer history; his grandmother Bales had been born in Oregon City in 1865. Some of her family had traveled the Oregon Trail in the 1840s.
When he was an infant his family lived in old Malheur City, where his parents had a store and his father had the Baker City-Malheur Stageline. They then built a home and service station on Dooley Mountain. Bud went through the first four grades of school at Bridgeport in a one-room school, with a total of 12 students in all eight grades. The family moved to Baker City, where at the age of 12, Bud first experienced living in a house with electricity and indoor plumbing. He finished the eighth grade in Baker City. In 1942, the family moved to Hermiston.
Bud quit school in his freshman year and went to work at the Umatilla Ordnance Depot in the electrical shop when he was 16. At the age of 17, he went to Portland and worked in the shipyards as a marine wireman. Bud worked at many things in his life. He drove truck for Consolidated Freight for several years and worked for Montgomery Ward. He operated a Chevron service station on First and Main in Hermiston. Bud also worked at the Umatilla School District for over eight years as a custodian and bus driver. He had a Carnation milk route for several years. Bud was an electrical supervisor at Oregon Potato in
Boardman, an electrical foreman at Hanford, and worked on a project in Libya. He served on the Umatilla Volunteer Fire Department for 13 years. Bud retired in 1988 as an electro mechanic at JM in Umatilla. After retiring, he and his wife Peggy spent 12 winters in Arizona. They also traveled in all the states except Alaska and Hawaii, and two provinces in Canada and two states in Mexico. He always said he traveled a long way from that one-room schoolhouse.
Bud is survived by his daughters, Pamala Gordon of Hermiston and Betty (Alex) Pedroza of Stanfield; brother, Alfred (Delores) Holden of Troutdale; six grandchildren; and 10 great grandchildren.
He was preceded in death by his wives, Ann and Peggy; his parents; a sister, Gladys; brother, Robert "Bob"; and stepson, Robert "Bob" Brunick.
Those who wish may make contributions in Bud's memory to Vange John Memorial Hospice Education Fund in care of Burns Mortuary of Hermiston, P.O. Box 289, Hermiston, Ore., 97838. Please share memories of Bud with his family at burnsmortuaryhermiston.com.
Burns Mortuary of Hermiston is in care of arrangements.