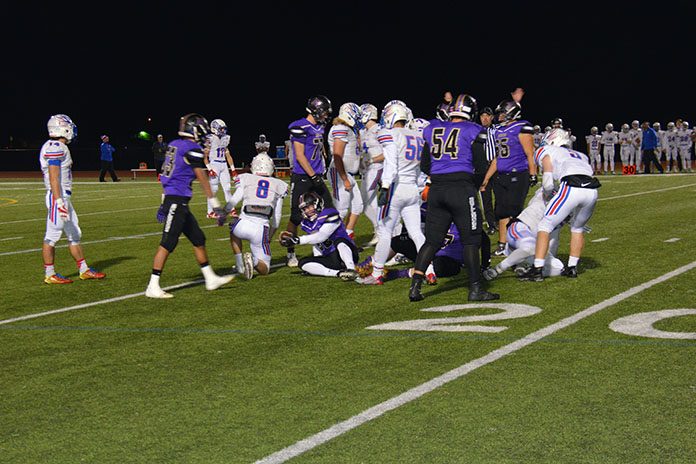 After a sluggish start Friday night at home on Kennison Field, the Hermiston Bulldogs found their offensive groove and ran away from the La Salle Prep Falcons, 47-21 to advance to the quarterfinals of the Oregon 5A football playoffs.
The Bulldogs racked up 533 total yards on the night and used a 25-point second quarter outburst to lead them to victory.
The Falcons shut out Hermiston in the first quarter and took a 7-0 lead into the second quarter. The shutout did not last, however, as Hermiston quarterback Andrew James found a wide open Joey Gutierrez on a 50-yard touchdown pass early in the quarter to make it 7-6.
That was the first of three straight scores for Hermiston, including a touchdown run by James and a 35-yard touchdown pass from James to Jordan Ramirez to give the Bulldogs an 18-7 lead.
Hermiston took a 25-14 lead into halftime and promptly expanded the lead to 33-14 third-quarter lead on a 10-yard touchdown run by Jonathan Hinkle, who led all rushers Friday night with 129 yards.
The Bulldogs spread the scoring around with Youbani Razon catching a touchdown pass from James along with scores by Dayshawn Neal and another touchdown run by James.
Hermiston's junior quarterback completed 12 of 21 passes for 226 yards to go with his four touchdown passes. James also added 90 yards on the ground.
Hermiston piled up over 300 yards rushing Friday night against the La Salle defense.
The Bulldogs will take on South Albany next week in a quarterfinal matchup. The 6-4 Rebels defeated Crater Friday night.