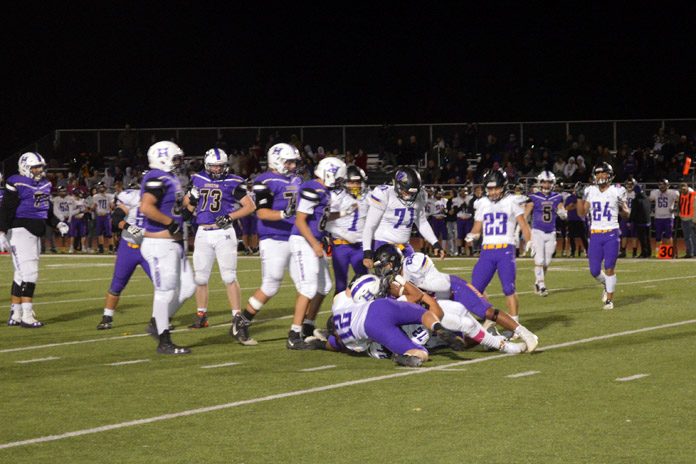 The Hermiston Bulldogs struggled on Senior Night Friday against their opponent and Mother Nature, falling to the Hanford Falcons, 50-28, at Kennison Field.
The biggest trouble for Hermiston came in the first quarter. Facing a stiff wind, the Bulldogs had trouble moving the ball against the Hanford defense. The Falcons, on the other hand, had the wind at their backs and scored three times in the first quarter. The first came on a 25-yard touchdown pass from Easton Wise-Hyde to Gabe Martinez early in the first.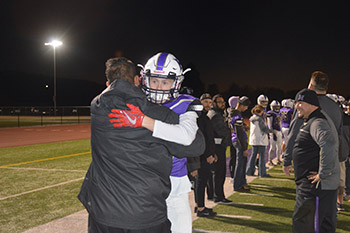 A punt into the wind by Hermiston resulted in negative yardage as the ball got caught up in the wind, fell to the ground and blew backward, giving the Falcons the ball deep in Hermiston territory. Idrian Cerna scored on an 8-yard run, and a 2-point conversion gave Hanford a 15-0 lead. A 21-yard touchdown pass from Wise-Hyde to Caleb Harvey gave the Falcons a 21-0 lead after one quarter.
The only scoring in the second quarter came on a 4-yard touchdown pass from Sam Schwirse to Garrett Walchli, one of four scoring connections between the two on the night.
The two teams traded touchdowns back and forth throughout the second half. Schwirse and Walchli also combined for an 80-yard touchdown pass, as well as a 6-yard score and an 18-yard score.
Walchli finished the night with 11 catches for 189 yards. Schwirse completed 29 of 46 passes for 303 yards. Guiomar Garay led the Bulldogs with 89 yards on 18 carries.
The loss drops Hermiston to 1-7 overall and 1-6 in Mid-Columbia Conference play. Hanford improves to 5-3 overall and 4-3 in the conference. The Bulldogs wrap up their season next week with a road game against the Kamiakin Braves, while Hanford takes on the Richland Bombers.