Hermiston Police Department officers arrested a Hermiston man on Thursday who is suspected of burglarizing a downtown business.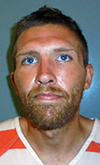 Hermiston police received a report on Tuesday of a break-in in the 100 block of E. Main Street. The business owners reported someone had broken into the business and stole a replica firearm.
After viewing the surveillance video, officers recognized the suspect and had seen him earlier in the evening wearing the same clothes as in the surveillance video. Lt. Randy Studebaker said the suspect, Jeramy Foley, 31, of Hermiston, has been arrested dozens of times over several years.
Two days later, on Thursday, an off duty officer spotted Foley in the 1300 block of N. First St. Studebaker said the off duty officer kept an eye on Foley while on duty officers arrive to make the arrest.
Foley was lodged in the Umatilla County Jail on charges of second-degree burglary, third-degree theft and third-degree criminal mischief. He was also arrested on an unrelated warrant for a probation violation.
"This case, like many others, highlights the effectiveness of video surveillance in crime prevention and investigation," Studebaker said. "As these systems become better and less expensive, we recommend you consider obtaining one for your home or business."