[quote style="2″]June Camp Now Registering Participants[/quote]
Learning to ride a bike just got a little easier for people with disabilities.
iCan Shine is a non-profit organization that teaches individuals with disabilities to ride a conventional two-wheel bicycle through its iCan Bike program. The program's five-day camp, requiring riders to attend only one 75-minute session per day, will take place at Armand Larive Middle School in Hermiston June 24-28.
iCan Shine collaborates with local organizations to host camps in their communities. This camp is being hosted by the Hermiston School District in cooperation with InterMountain Education Service District.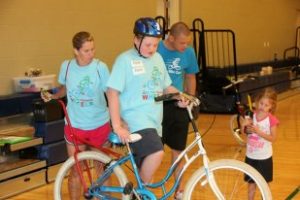 iCan Shine uses adapted equipment, trained professionals and volunteers. With 75 minutes of instruction over five days, more than 80 percent of riders learn to ride a conventional bicycle independently by the end of camp.
Debbie Herrera, whose daughter Mikayla participated in the Hermiston-area program last summer, encourages other parents of children with special needs to register for the camp.
"It was so worth the time and money to see the look in her eyes and see that she had gained some independence," Herrera said. "It is truly a life-changing experience for everyone involved – participants, their family members and also the helpers. This is the kind of transformation everyone should witness; one of those experiences you have to see it to believe."
To be eligible to enroll, riders must be at least 8 years old, have a disability and be able to walk without an assistive device such as a walker or cane. Riders must be able to side-step quickly to both sides, and must have a minimum inseam measurement of 20 inches and weigh no more than 220 pounds.
The cost of the camp is $99 and is open to all individuals who meet registration requirements, regardless of where they live. To register, visit the InterMountain Education Service District website to download the registration form and learn more about the iCan Bike program. For additional information, contact Brian Schimel at 541-667-6500 or email him at brian.schimel@hermiston.k12.or.us.