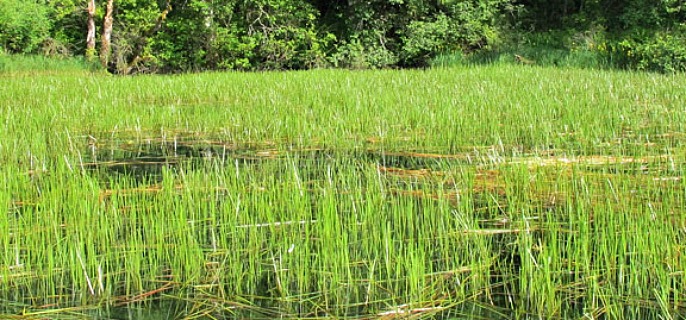 A canal-clogging invasive weed is appearing along the shores of the Columbia River near McNary Dam and has state officials worried.
In a story carried by the Tri-City Herald, state officials report patches of flowering rush up to 10 feet in diameter were found growing east of McNary Dam.
The weeds have yet to be removed as state officials must confer with the Army Corps of Engineers, which has jurisdiction over the river, about federal permits for eliminating the plants.
Dan Hilburn, administrator of plant programs at the Oregon Department of Agriculture, hopes the Army Corps of Engineers is able to streamline the permitting process so the weeds can be dug up before they spread further downriver.
Flowering rush is a threat to agriculture primarily because it forms thick masses of vegetation that impede the flow of water, Hilburn said. "The whole function of the irrigation system is to move water and this one would really hamper that."
Apart from obstructing irrigation canals, flowering rush can get sucked into irrigation intakes and block screens and pumps, said Peter Rice, research ecologist at the University of Montana.
Washington has several populations of flowering rush, including one on the Yakima river that is the likely source of the weeds in Oregon and new sites on the Columbia river in Washington.
To read the full story, visit the Tri-City Herald website.
More Stories from Northeast Oregon Now:
BPA Customers Get Inside View of McNary Dam
BMCC to Give Bond Measure Another Shot
Tooth Taxi Coming to Hermiston