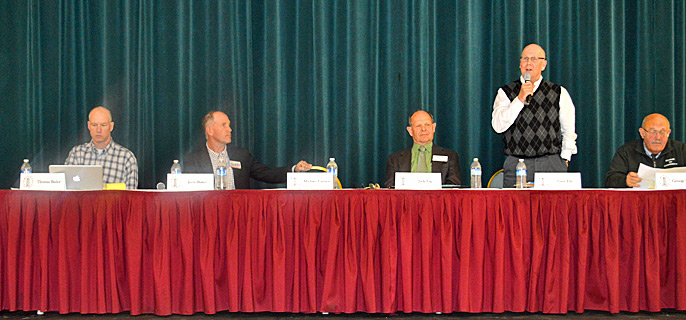 Tuesday night's Umatilla County Commissioner Candidate Forum at the Hermiston Conference Center shared a lot of similarities with the forum held two weeks ago in Umatilla: There was much agreement among the participants and, again, only five of the six candidates showed up.
Michael Cannon's performance on Tuesday was an exact repeat of his April 1 performance – nonexistent. For the second straight candidate forum, the candidate from Hermiston was a no-show. The other candidates – Tom Bailor of Pendleton, Jack Esp of Echo, Terry Fife of Pendleton, George Murdock of Pendleton and Jerry Baker of Athena – largely agreed on many of the topics discussed at the forum, sponsored by the Hermiston Chamber of Commerce Governmental Affairs Team and KOHU/The Q. Erick Olsen of KOHU moderated the event.
Esp said the key to growth for Umatilla County is getting more water from the Columbia River to area farmers.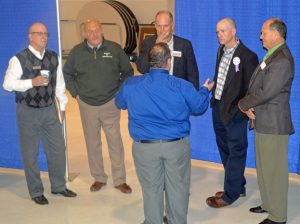 "If we can get another 450 to 475 acre feet of water out of the Columbia, that would add 20,000 farm jobs," he said. "That will increase agriculture production and allow us to bring in more processing jobs."
Fife said he recently heard Fred Ziari of IRZ Consulting say that half of all jobs in Umatilla County are ag-related in one way or another.
"So water is a key issue in the county," Fife said. He also said the land at the Umatilla Chemical Depot can be an economic driver, as well, if developed properly to attract new industry to the area.
"The land is in a great location with access to the transportation corridor," Fife said. "My background as a real estate appraiser will help in getting that land developed."
The candidates, running to finish the term of Bill Hansell, who was elected to the state Senate in November, had a chance Tuesday night to raise topics for discussion. Murdock sought the opinions of his fellow candidates on the Eastern Oregon Trade & Event Center. Murdock said the EOTEC is a "bold initiative" and one that he fully supports.
Baker said he was initially skeptical of the center, particularly whether or not it could bring in enough revenue to sustain itself, but is more optimistic about its viability after talking with EOTEC board members.
Fife said the center will open free of debt and has promotional fees in place, two factors that make it economically viable.
"I think it's a good idea," he said.
Bailor also supports the EOTEC, but said it should expand its focus beyond the Umatilla County Fair and Farm-City Pro Rodeo.
"We have a huge horse culture here and I'd like to see other equine events added to the EOTEC," Bailor said.
Baker sought the opinion of the others on the problem of the wolf population in Eastern Oregon.
Bailor recommended a policy of "shoot, shovel and shut up.
"If you think you have a wolf coming onto your land, take care of it yourself," Bailor said.
Baker, a wildlife biologist, said he couldn't support that approach, but said the wolf population shouldn't be coming into Eastern Oregon at the expense of ranchers and their livestock.
"We have to figure out a way to manage the population," Baker said.
Murdock said he had an answer for those who oppose killing wolves.
"We should spread the wolf population around the Pacific Northwest on a per capita basis and then see what they think," he said.
Olsen asked the candidates if they had any solutions for sheriff department's inadequate staffing levels in light of the county being strapped for cash.
Esp suggested the possibility of a rural levy to raise money to hire more patrol deputies. Short of that, he said the county needs to make public safety a higher budget priority.
"The government's No. 1 responsibility is to protect the people," he said. "The Umatilla County budget process has made it a low priority."
Fife also said the only likely means of finding money to add more patrols on the roads was for the county residents to pass a bond, but said that it would be difficult to get Hermiston and Pendleton residents to support it.
"That's a tough sell in the cities," he said.
Murdock said the key to getting a bond or levy passed was to include some benefit to the cities.
Baker said he would like to see an outside audit of the sheriff's department. He said that would provide a clear picture of what problems exist in the department.
Bailor said the county needs to adopt a comprehensive law enforcement plan in which the various law enforcement entities work together.
"Unlike fire departments, law enforcement departments don't always communicate very well together," he said. "We need a comprehensive law enforcement plan to get all the players together at the table."
The election for Umatilla County commissioner is May 21.