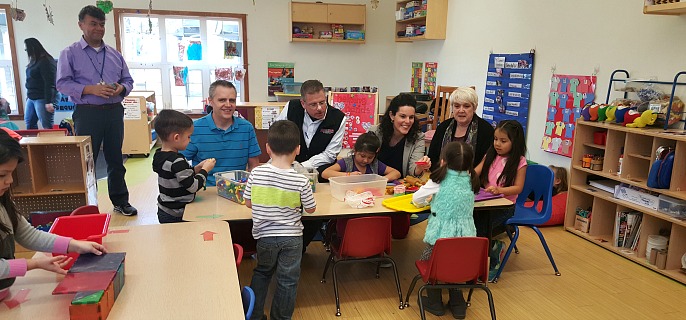 When Umatilla Morrow Head Start went car shopping at Rogers Toyota in Hermiston, they came away with more than a vehicle.
The conversation with sales staff by UMCHS Deputy Director Aaron Treadwell led to a dialogue with Glenn Silaski, general manager of Rogers Toyota of Hermiston. Silaski mentioned that the dealership wanted to get more involved with the community, particularly children and families, and Treadwell had plenty of ideas for him.
A few days later, Silaski, Treadwell and UMCHS Executive Director Maureen McGrath were in a classroom at the Victory Square Head Start Center, playing with a group of the center's 4-year-old students. Silaski learned how the Head Start program operates, and that UMCHS manages a broad spectrum of programs targeted at young children and their families. That led to Rogers Toyota contributing $2,500, to be used in any of the programs.
Silaski then nominated UMCHS for the Toyota Dealer Match Program. The program will match an approved local dealership's contribution to a charity of their choice. According to the program's webpage, its mission statement is "It's Your Choice. It's Your Charity. It's Your Community. Together, We Can Make a Difference." Several weeks later, a second $2,500 check arrived, bringing Toyota's contribution to UMCHS to $5,000.
The Toyota contribution will be used for UMCHS programs that provide early childhood education, nutrition, child care referral, and home visiting services.
For more information, contact Aaron Treadwell, 541-564-6878 or e-mail to atreadwe@umchs.org.