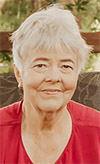 Carol Kay Pomeroy passed away peacefully on Dec. 9, 2020 at her home in Stanfield surrounded by family at the age of 70.
She was born on Nov. 2, 1950 in Wolf Point, Mont. to Donald and Elaine Sethre.
Carol grew up on a large farm in northeastern Montana. She understood hard work from a very young age, driving truck for the farm and taking care of the livestock. After she graduated from Wolf Point High School in 1968, she worked for a time at the Montana-Dakota utility company, where she made $1 per hour. She attended college in Nebraska, where she studied shorthand and secretarial work. In 1977, she moved to Pendleton and graduated from Blue Mountain Community College, majoring in dental assistant studies. Not long after moving to Oregon, she was introduced to Steve Pomeroy on a blind date and on Jan. 14, 1978, just six months later, they were married. She worked for many years as a dental assistant in the Hermiston area and then moved on to secretarial work at Stanfield High School. After failing her first retirement attempt, she worked part time in product distribution and bookkeeping.
Carol was also involved in various volunteer positions in the area, including the Stanfield Senior Center, Hope Presbyterian Church, the Stanfield Library, and the Stanfield Cemetery board. She enjoyed traveling across the U.S., spending time on the coast, camping, and visiting her grandchildren.
Carol is survived by her beloved husband, Steve Pomeroy, Stanfield; son, Michael (Ashley) Pomeroy, Hermiston; daughter, Alaina (Jr) Ena, Tualatin; brother, Gary (Phyllis) Sethre, Wolf Point, Mont.; sister, Karen Jones, Richmond, Va.; sister, Joyce (Steve) Lawrence, Fairfax Station, Va.; brother, Mark (Theresa) Sethre, Kalispell, Mont.; and five grandchildren, Norah, Will, Layne, Weston and Lyla.
She was preceded in death by her parents, Donald and Elaine Sethre.
With current COVID-19 restrictions and out of concern for everyone, a private family burial will be held at Pleasant View Cemetery, Stanfield. When it is appropriate to do so, the family will be having a celebration of her life.
In lieu of flowers, please consider a contribution to the American Red Cross, or if able, donate blood so others in need can benefit, just as Carol had for the last several months of her life.
Please share memories of Carol with her family at burnsmortuaryhermiston.com.
Burns Mortuary of Hermiston is in care of arrangements.