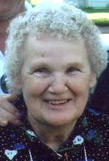 Carol I Thorp, of Hermiston, died on Aug. 23, 2013 in Umatilla at the age of 76.
She was born on Jan. 22, 1937 in Big Creek, Idaho to Peter and Florence Featherkile Pederson. Carol lived Kellogg, Idaho until 1942 and then her family moved to Snohomish, Wash. In 1946 they moved to Kettle Falls, Wash., and then to Everett, Wash., in 1950. Carol graduated from Everett High School in 1955. Carol married Perry E. Thorp on Feb. 19, 1955 in Everett, Wash. Perry worked in construction for many years and the family moved throughout Washington, California, and Alaska, all the time keeping Alderwood Manor, Wash., as their home base.
They moved to Umatilla in 1991 and then to Irrigon in 1993 before settling in Hermiston in 2002 where she has lived since. For many years Carol and Perry enjoyed snowbirding in Phoenix during the winters. Carol worked at the extended stay program at McNary Heights Elementary School in Umatilla for several years and volunteered with the SMART Program at West Park Elementary School in Hermiston. She was a member of TOPS. Carol enjoyed crafts, canning, reading, gardening, and exercising. She and her daughter Carrie enjoyed walking all around Hermiston.
She is survived by her sons, Kenneth Thorp, California, John Thorp, Irrigon and Jim Thorp, California; daughter, Carrie Morris and her husband Dennis, Umatilla; sisters, Della Swart, Sequim, Wash., and Cleo Morgan, Longview, Wash.; seven grandchildren; and 16 great grandchildren.
Carol was preceded in death by her husband, Perry Thorp; her parents; and a sister, Mickey.
A memorial service will be held on Saturday, Sept. 21, 2013 at 2 p.m., at the Umatilla Baptist Church, Umatilla.
Please sign the condolence book at burnsmortuaryhermiston.com
Burns Mortuary of Hermiston is in care of arrangements.