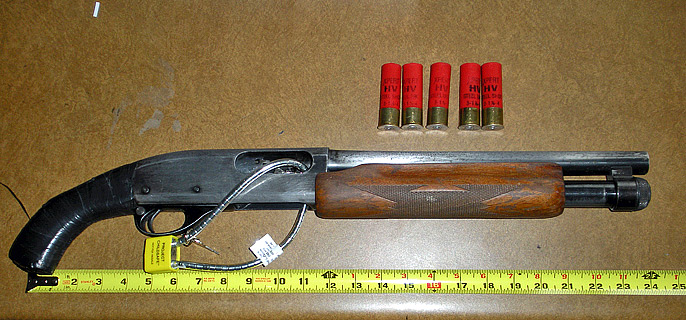 What began as a warning for jaywalking Saturday ended in the arrest of a Hermiston man on weapons charges involving an illegal shotgun.
The incident began around 11:30 a.m. when Hermiston police officer Victor Gutierrez saw two men, Pedro Munoz and Olajawon L. Thomas, both of Hermiston, fail to use crosswalks as they walked across Highway 395. Gutierrez approached the two men to remind them that jaywalking is an enforceable violation.
"Upon a cursory check for dangerous weapons, (Thomas) became increasingly nervous and ultimately fled on foot after Officer Gutierrez touched what he believed was a firearm in the area of the subject's waist," said Hermiston Police Chief Jason Edmiston in a press release on Monday.
Thomas was then seen getting into the passenger side of a maroon Pontiac Grand Am. Edmiston said officers were able to locate the vehicle on the other side of town.
"A high-risk traffic stop was conducted with the assistance of the Oregon State Police in the area of East Hurlburt Avenue and Southeast Sixth Street," said Edmiston.
Thomas, 22, was taken into custody without incident. A search of the area where Thomas fled resulted in the discovery of an altered shotgun that had been tossed next to a building on the 100 block of West June Avenue, said Edmiston.
Thomas, formerly of Portland and whose last known address was 425 N. First St., No. 21, was jailed and charged with unlawful possession of a short-barreled firearm, unlawful use of a firearm, unlawful possession of a firearm, attempting to elude police on foot and second-degree disorderly conduct. Both he and Munoz, 34, were also issued citations for failure to use a crosswalk. The driver of the Grand Am, Korina Bentz, 22, of Kennewick, was issued a citation for driving while suspended.