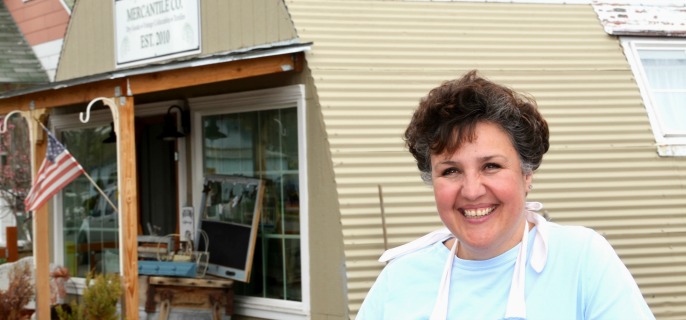 [quote style="2″]Cyndie Traner's Mercantile Seems Like Old Times[/quote]
Store owner Cyndie Traner celebrates the past while working on big plans for the future.
Traner's store, C and R Mercantile Company, is located in the old Quonset hut building on the corner of West Locust and Southwest Third in Hermiston. She established the company in 2010 and opened the store in March 2013.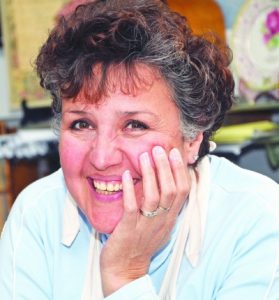 With an emphasis on the era of the Great Depression, Traner aims to take customers "back to those family traditions and values, looking at life when it was a little simpler."
Her merchandise, mostly household items from the 1920s, '30s and '40s, evokes a sense of historical significance in keeping with the building itself. Traner says the Quonset was built in 1948. In 1956, longtime Hermiston resident Nan Reeves bought the building and opened a community laundry, which her family ran for many years.
One day, during Traner's renovation prior to opening the store, Reeves visited the Quonset. "I led her through the building, and she had tears in her eyes," Traner said. Having gained Reeves' blessing of her efforts to transform the Quonset into an old-fashioned mercantile, Traner's confidence in her plans was strengthened.
"It's about an appreciation of that time past. 'Mercantile' — it reminds people of days of gathering, socializing, being with people."
Inside, C and R Mercantile is separated into six sections, each intended to represent a different room in a house. Sets of CorningWare sit on shelves close to a rack of aprons. Quilts and old dresses are displayed near the front door.
Traner also gives customers ideas for repurposing items they may already own. On one side of her store is a chicken nesting box she has spruced up and used for shelving. She held up a trivet made from Coca-Cola bottle caps, which someone had crocheted together to resemble a cluster of grapes.
"People were so good at re-using things back then, because they had to," she said. "I have more gals that just come in here to be inspired by how I've decorated."
Traner has a guestbook which many customers have signed since the store opened. One customer wrote, "This place transports me back to the best and sweetest time of my life, my home with Grandmother in the 1940s."
Many of the items in C and R Mercantile are from Traner's own collection. "I attend a lot of auctions and look for higher quality reproductions," she said.
Several items have come from thrift stores, yard sales, or customer donations; but C and R Mercantile carries only high-quality merchandise.
"I have a toaster from the 1920s that still toasts bread," she said. "I don't want to be competing with other businesses carrying the same items. I try to stay within a certain period — and mostly stuff to decorate your home. I try to be mindful of what (other businesses) are doing and carve out my own niche."
C and R Mercantile will run a farmer's market, The Grower's Market Place, April 1 through Oct. 1. "I want to emphasize homemade goods," Traner says. The market is open to locals selling plants or food products, as well as to 4-H and FFA participants who wish to sell their surplus livestock.
"Say you're a stay-at-home mom and you do a lot of canning from your garden. You'd like to contribute financially to your family. The community can support you. We're keeping local dollars here," Traner said. "I want to have a business where people don't feel their only option for shopping is to go to the Tri-Cities."
After The Grower's Marketplace has generated enough revenue, Traner plans to construct a small building behind the store and open an architectural salvage called History Reclaimed. History Reclaimed will carry any kind of building material salvaged from turn-of-the-century houses, such as pillars, moulding, wooden mantles and staircase railing.
"There's such a movement right now for people to reclaim and make something useful," Traner said. "We don't have that here. The nearest place that does architectural salvage is in Portland."
She has already contacted a few local contractors to get inventory on consignment. She would also like to contact some of the architectural salvage businesses in Portland that may not have enough space to display their entire inventory. Local homeowners who remodel old houses with new doors, moulding or fixtures and wish to get rid of old, good-quality building materials will be able to send them to History Reclaimed.
Traner hopes to have the architectural salvage building up some time this fall.
For more information on the farmer's market, see the ad for The Grower's Market Place in The Nickel; or visit Cyndie Traner at C and R Mercantile Company, open Tuesday through Saturday, 9 a.m. to 6 p.m.
More Stories from Northeast Oregon Now:
The Dark World of Human Trafficking
City Taking Applications for Façade Grants
Faith-Based Committee Reaching Out to At-Risk Kids