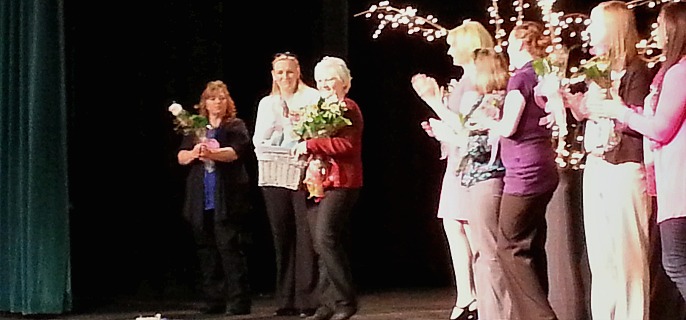 Sherrell Chevrolet Office Manager Caryle Gallien was named Professional Assistant of the Year at the Professional Assistants Day Luncheon Tuesday at the Hermiston Conference Center.
Business owners from around the area attended the luncheon, which was facilitated by the Hermiston Chamber of Commerce and catered by Sweet Redemption Catering. Several chamber members including PGG, Express Employment Professionals, Cayuse Technologies and Umatilla County Tourism sponsored the event.
Sponsors decorated the tables with special centerpieces which attendees could take home. Door prizes were also given out, courtesy of Simplot Grower Solutions, Yo Country Frozen Yogurt, Fiesta Foods and many others.
Master of Ceremonies Steve Williams introduced the "hip, funny, original, impressive" Seattle comedian Matt Baker, who provided the entertainment with his signature stand-up comedy and stunts. Baker has appeared on TV shows such as Tosh.0 and America's Got Talent.
Baker's performance involved hat tricks in the spirit of Charlie Chaplin, using his mouth to juggle ping pong balls, juggling garden weasels — even tossing a bowling ball and catching it with his face.
After the comedy show, the eight nominees for Professional Assistant of the Year were called to the stage. Each nominee was honored with a floral bouquet from The Cottage.
Williams named Gallien the winner, citing her nomination by Kari and Dave Christiansen of Sherrell Chevrolet:
"[Gallien] became part of our family in 1986. We are very grateful to have an employee and friend like Caryle. Now we just have to keep her for at least 30 more years!"
Gallien received a gift card from Shear Illusions, a gift basket with items from Lucky Endz and Hermiston Drug, and an overnight package from Wildhorse Resort & Casino. Then she and her co-workers got to ride back to work in a limousine from Luxury Limo Service.
More Stories from Northeast Oregon Now:
City, County Back EOTEC Site Plan
HPD Street Crime Unit Rounds Up 'Undesirables'
Energy Costs to Increase – Here's Why