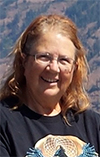 Charlotte Marie Johnson of Hermiston died on Dec. 13, 2021 in Portland at the age of 69.
She was born on Oct. 11, 1952 in Newport, Wash. to Frank Carl Johnson and Alma Lee Harroun (Bramblee).
She was the first of five children, followed by her brothers, Michael Carl Johnson, Gerald DeWayne Johnson, David Lewis Johnson and Raymond Eugene Harroun.
Charlotte was a truck driver for 25 years, loved horses and horseback riding, and was a member of a couple of local riding groups. She loved camping and riding four-wheelers. Her favorite place to ride and camp was the Morrow County OHV Park outside Heppner. She loved to create, whether it was a DIY building project or crocheting or making hats for her grandkids. She blazed many trails in her life, both literal and figurative. She broke gender standards in the trucking industry and was one the few women to race cars at the Hermiston oval track in the early '80s. She was always leading when riding the trails on a four-wheeler. She loved traveling and going for drives, always taking the road that she'd never been down before, just to see where it went. She was fearless.
She is survived by her companion, Lyle Potter of Hermiston; her children, daughter Tracy Lee Enders-Crum, son-in-law Jarrod Crum of Pasco, Wash. and son Anthony James Enders, daughter-in-law Rhianna Enders of Mitchel, Ind.; three grandchildren, Taylor Marie Enders, Ethan Samuel Caballero and Graig Michael James Enders; and brothers, Gerald DeWayne and Raymond Eugene Harroun.
She was preceded in death by her father and mother; as well as her brothers, David Lewis and Michael Carl.
A memorial service will be held at 2 p.m. on Friday, Jan. 14 at Burns Mortuary Chapel, Hermiston.
Please share memories of Charlotte with her family at burnsmortuaryhermiston.com.
Burns Mortuary of Hermiston is in care of arrangements.