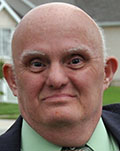 Charles Leon "Chuckie" Howard died on Oct. 5, 2018 at the age of 62.
He was born on March 26, 1956 to Cecil and Jessie Peel Howard.
Chuckie worked in the septic tank business. He knew where everything was, created smoothie concoctions, hoarded cardboard, and never threw away a t-shirt. Chuckie never let Down Syndrome affect his ability to make a friend, lead a choir, and entertain family. His greatest loves were family, friends, God, country, WWE, old westerns, Elvis and STUFF. Clean his room and he threatened to "take you down." Turn the channel? You better run. Throw anything away and he'd retrieve it.
We're reminded of Chuckie through his beautiful art, unfaltering faith, example to all, and ability to pick the winning team – usually the one winning or wearing white.
Chuckie is survived by sisters, Lily Morriss (William) and Marie Noll (Gary); brothers, Don Howard and Alan Howard (Janis); and too many friends and extended family to name.
He is joyfully reunited with his dad, Cecil Howard Sr.; mom, Jessie Howard; sister, Frances Howard; and brothers, Cecil Howard Jr. (Carla) and Buddy Howard.
A service to celebrate Chuckie's life is scheduled for Oct. 19, 2018 at 6 p.m., 3305 W. Kuna Road, Kuna, Idaho.
A graveside service will be at noon on Saturday, Oct. 20, 2018 at Hermiston Cemetery.
To leave an online condolence for the family, please go to burnsmortuaryhermiston.com.
Burns Mortuary of Hermiston is in care of final arrangements.