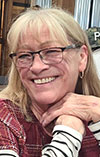 In loving memory of our mother, Cynthia Kaye "Cindy" Weatherby, who passed away on Jan. 13, 2023. She was the devoted wife of Christopher Weatherby and loving mother of Jennifer Slimak and Rebecca Morris. She will be deeply missed by all who knew her.
Cindy was born on May 13, 1960 to Arnold Denton and Carol Taylor in Albany. She immediately brought joy and laughter into the world. Growing up, Cindy and her big brother, Steve Denton, grew close throughout the years and enjoyed each other's company.
Cindy was married to Mike Tuel on Jan. 24, 1980, and together they went on to have two daughters, Jennifer and Rebecca. Cindy was a wonderful and loving mother who gave her all to her family. We will never be able to fill the space left behind by her. In 1989 they moved to Eastern Oregon, where Cindy was an active member of Irrigon Fire Department and later the Umatilla Fire Department.
She later remarried Christopher Weatherby on March 21, 1998. They had been together for 29 1/2 years and were happily married for 25 years until her passing. She was a loving, dedicated wife who worked hard every day to make sure her family had everything they needed. They enjoyed trips to Depot Bay on the Oregon coast, watching the girls' sporting events or rodeos, and later spending time watching their grandchildren grow up.
One of her greatest titles was Grandma. She was so proud of her three grandchildren, Cody Samson, Bryce Morris and Blake Morris. They were her pride and joys. She loved watching them play sports, having them spend the night, taking them fishing, and watching them grow into three amazing young men.
Cindy was a caring, kindhearted, giving person who always put the needs of her family before her own. She was a strong woman who faced every challenge in her life with courage and dignity. She has taught us all the importance of family, hard work and doing what is right. She was a true role model who we will always look up to. She was a source of inspiration to us all, and she will be deeply missed by everyone whose lives she's touched.
The celebration of life will be held at the Port of Morrow in Boardman on Feb. 4, 2023 from 1 to 3 p.m.
In lieu of flowers, donations may be made to https://everloved.com/life-of/cynthia-weatherby/.
Mom, you will always be in our hearts, and we will never forget you. We love you so much. Rest in peace.
Burns Mortuary of Hermiston is in care of arrangements.