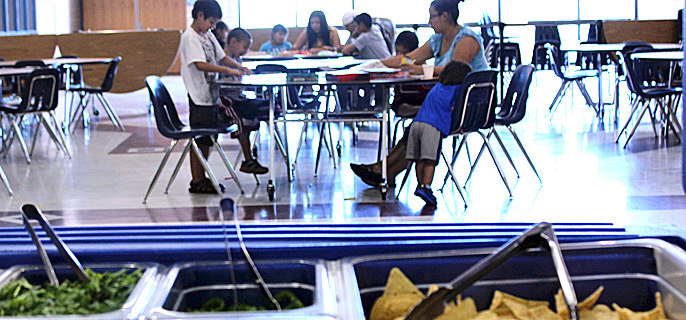 Fifty-eight children and eight adults enjoyed chili, cornbread, ice cream and a salad bar Thursday night at Umatilla High School.
For the kids, the meal was free; for adults accompanying children, it was $5. Families then enjoyed presentations, board games and spending time together.
"We want families to be here. It's all about the kids," Umatilla Food Services Director Guy Jager said Thursday. "All of the meals meet USDA guidelines for healthy meals."
For years, both Hermiston and Umatilla have offered free lunches to children and reduced-cost meals to adults during the summer months. This year, Umatilla's G.R.E.A.T. (Gang Resistance Education and Training) Program has allowed for a sixth meal for children and families.
The "New and Exciting" family supper nights run from 4:30-6 p.m. every Thursday at Umatilla High School. Meals include entrees such as tacos, spaghetti or barbecue chicken and are free for children age 1-18. Adult family members eat for $5. A fruit and vegetable variety bar, milk and coffee are also provided.
The first family night was June 21, and Jager said 26 children took advantage of the free meal and activity. In the second week, the numbers almost doubled.
"That's all just word of mouth," Jager said.
Each week, Umatilla Police Department's G.R.E.A.T. officers and Umatilla School District staff will offer activities for kids and classes for adults. Childcare services will also be available during the family nights, and the evening meals are in addition to the school district's annual summer meal program.
In Umatilla, all children ages 1-18 can receive a free meal at either site Monday-Friday. Adults accompanying children can receive the same meal for $2. Meals are served at:
• McNary Heights Elementary: 10:30 a.m. – noon
• Umatilla High School: 10:30-11:30 a.m.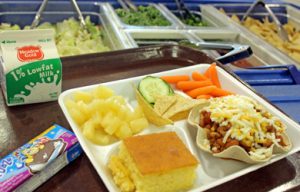 The meals range from chicken burgers to fish and chips and include fresh vegetables, fruit and milk choices. In the past, meals have been served at other locations, including Umatilla Marina Park, but Umatilla School District Superintendent Heidi Sipe said the feeding sites are adjusted each year based on highest attended areas.
District food service employees staff each lunch location, and the evening events employ a number of individuals, including a paraprofessional for daycare, a teacher for the parent session for the general public and a Umatilla Police Officer for the G.R.E.A.T. session.
Hermiston
The city of Hermiston also started its annual summer lunch program on June 17. Hermiston's program will run every weekday – with the exception of July 4 – until Aug. 16. Hermiston's program is offered at five sites:
• Butte Park: noon-12:30 p.m.
• Bliss Apartments: 12:15-12:45 p.m.
• Hermiston Family Aquatic Center: 12:15-12:45 p.m.
• Rocky Heights Elementary School: 12:30-1 p.m.
• Victory Square Park: 12:45-1:15 p.m.
"We've only been doing it for a week, but it's going well," coordinator Diana Picard said Monday. "We served 700 lunches last week."
Because of a funding cap, the city is limited on how many lunches they can serve a day at each site, based on past need and 10 percent growth. In Hermiston, that means up to 150 meals a day.
All meals are on a first-come, first-served basis and must be eaten on site.
"With the weather, it's hard to judge how many people will come out. We don't want to have any waste," Picard said. "Once the weather warms up, we'll be serving all our lunches every day, and it is first-come, first-served."