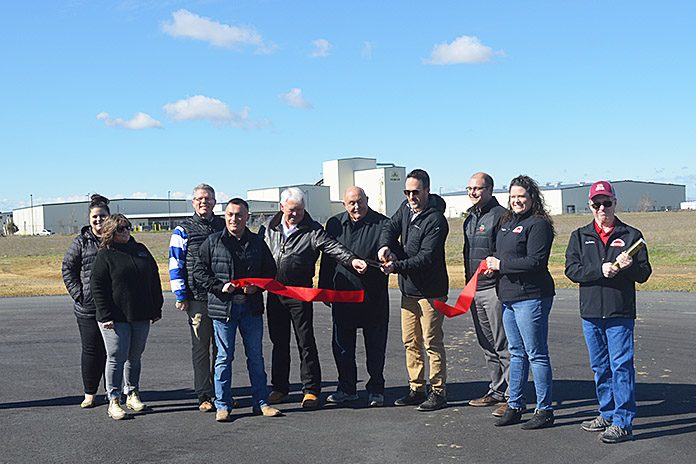 Eight months after breaking ground on the South Hermiston Industrial Park (SHIP), the city of Hermiston celebrated its $2 million expansion Friday with the help of the Hermiston Chamber of Commerce.
"What a great day to celebrate the growth and future of Hermiston," said Mayor Dave Drotzmann, who noted the project was a collaboration between the city, state, Umatilla County and the Port of Umatilla.
"This sends a message that Hermiston is open for business," said Drotzmann.
Umatilla County Commissioner George Murdock said he expects the industrial park to "bring in a lot of opportunities and business to Hermiston."
Since the groundbreaking in July 2021, the city has extended roads, water lines, sewer pipes, and upgraded electrical power to the industrial park.
The utilities projects were funded from a variety of sources, including a $1 million U.S. Economic Development Administration (EDA) grant, $800,000 from a Local Improvement District representing adjacent property owners, $150,000 from the city of Hermiston and $50,000 from Umatilla County. The EDA projects the activity will lead to 250 jobs and $70 million in private development.
The upgrades to the SHIP include:
Paved road and water and sewer lines to S.E. 10th Street between U.S. Highway 395 and E. Penney Avenue and on Cook Avenue from S.E. 10th Street into Port of Umatilla property withi­­­­­­n the SHIP
Completed paved roads connecting S.E. Campbell Drive to E. Penney Avenue
New underground power through Port of Umatilla property to loop with existing power along U.S. Highway 395
The development of SHIP, located west of Highway 395 near the Walmart Distribution Center and is made up of properties ranging from 1.5-20 acres, has created more than a dozen shovel-ready parcels of light industrial property.
Port of Umatilla Commissioner Jerry Imsland used the SHIP acronym to sum up the whole point of the industrial park.
"The city has brought the SHIP home to a shovel-ready destination," he said.