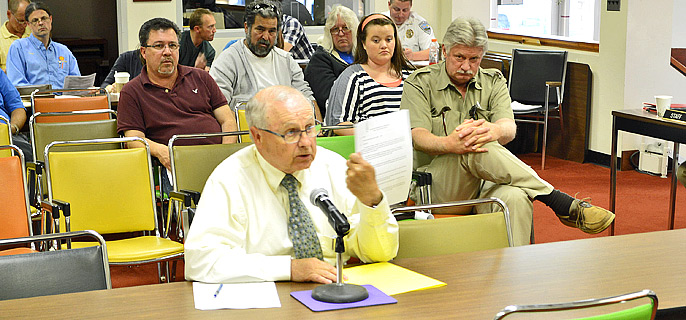 [quote style="2″]Agreements Outline Management, Financial Responsibilities[/quote]
The Hermiston City Council approved a pair of intergovernmental agreements Monday night between the city and Umatilla County to help ensure the Eastern Oregon Trade and Event Center (EOTEC) gets off to a smooth start.
The EOTEC will initially be home to the Umatilla County Fair and the Farm-City Pro Rodeo and is expected to attract other large-scale events down the road. The EOTEC, however, will likely need financial support in its first few years until other events begin taking place at the facility and adding to its revenue stream.
The city council approved a Memorandum of Understanding Monday that outlines the financial support both the city and county will provide. The agreement states that both entities will contribute $25,000 for EOTEC operations and maintenance each year while the fair remains at its current site and $50,000 for the first three years that the EOTEC is open. The fair is expected to move to the EOTEC by the end of 2016.
"There is going to be a transition period when the facility is going to be a start-up business," said Umatilla County Commissioner Dennis Doherty. "One of the concerns we have is to make sure that the parent organizations are there to ensure its support and get it through those start-up years. At some point the revenues should be such that the EOTEC is self-sustaining."
The county currently contributes $80,000 toward the operations of the fair and Doherty said the county will continue to provide that money in addition to the new financial support outlined by the agreement with the city.
The other agreement between the city and county approved by the council Monday night outlines property acquisition, road development and property maintenance responsibilities between the city and county.
Hermiston City Manager Ed Brookshier said the current property owners have agreed to sell 19.5 acres to the city and county for $215,000, with each entity paying $107,500. The property is necessary to provide access to the EOTEC site.
"It doesn't much help to have 75 acres if you can't get to it, so it seemed pretty obvious we needed to get this worked out," Doherty said.
The agreement splits the road development cost evenly between the city and county with each paying $80,713.75. They city will also pay approximately $60,000 for surveying and impact studies bringing its total investment into the property acquisition at $248,213.75, just under the $250,000 allocated in the city's budget.