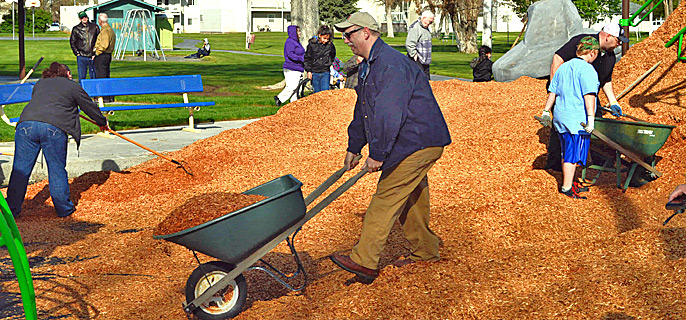 On a quintessential Hermiston spring day, folks gathered at Victory Square Park to pay tribute to a quintessential Hermiston man.
With the sun shining and the wind blowing Saturday morning, local and state dignitaries helped dedicate a new playground at the park to former Hermiston Mayor Bob Severson.
State Rep. Greg Smith recalled an encounter he once had with Severson in which he asked him how he was doing.
"He told me all he was trying to do was make the city of Hermiston a better place to live," Smith said. "This park forever will be a symbol of the kind of positive place Bob worked to provide for his community."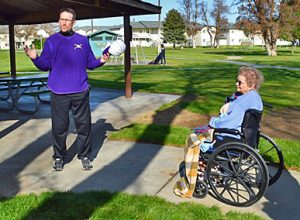 Severson was a member of the Hermiston City Council from 1995 to 2000 and served as mayor from 2000 until his death in December. For years, he owned and operated Bob's Red Apple grocery store directly across Orchard Avenue from Victory Square Park.
Hermiston Mayor Dave Drotzmann said Severson was dedicated to parks and recreation during his years of public service.
"He believed that parks and rec were critical to the livability of our community," Drotzmann said.
Hermiston City Council President Rod Hardin, who served with Severson on the council for many years, said the park and the playground will serve as a place to find happiness and health for the entire community.
"The Constitution talks about life, liberty and the pursuit of happiness," Hardin said. "Parks are a part of the pursuit of happiness. This park is great for families and if we have healthy families, we have a healthy community."
Carlisle Harrison, a member of the city's Parks and Recreation Committee, said Severson was an advocate of parks and recreation even before the city had a Parks and Rec Department.
"This park was one of the first parks in Hermiston," Harrison said. "I'd be willing to bet that Bob was here building the park and Jan (Severson's wife) was right there behind him."
Victory Square Park is Hermiston's second-largest park, with only Riverfront Park being larger. A new playground was recently built at the park and following Saturday's dedication, volunteers put the finishing touches on Mayor Bob Severson Memorial Playground by spreading around wood chips.
Parks and Recreation Director Larry Fetter said a bronze plaque will be installed at the playground in honor of Severson.