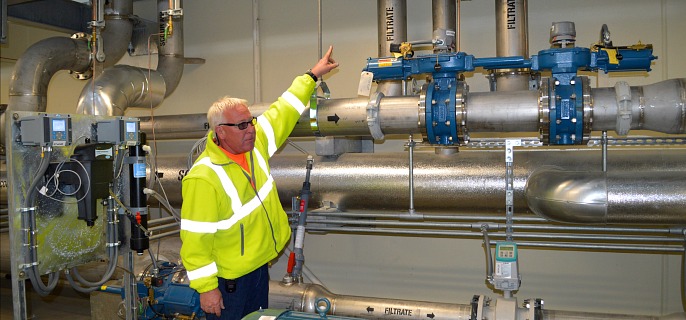 A small ceremony on Thursday evening capped off one of Hermiston's biggest infrastructure projects when city and chamber of commerce officials officially opened the new Recycled Water Treatment Plant.
"This is a historic event in Hermiston," said Mayor Dave Drotzmann. "We got 35 years out of the last plant and hopefully we'll get another 50 years out of this one."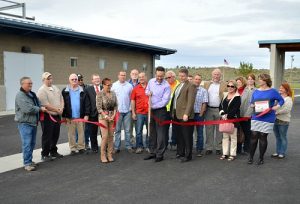 The cost of the $27.2 million plant is being paid for through an increase to sewer rates, which began to take effect in phases on Jan. 1, 2014, and the next phase on July 1, 2015. The rate on July 1, 2015 will be $23.56 per month for residential customers. An independent analysis conducted by Raftelis Financial Consultants, Inc., released in June, surveyed 51 cities in Oregon, and 70 cities in Washington, to identify water and sewer rates charged in 2013. Hermiston's rate which will go in to effect on July 1, 2015 will rank it as the fourth most affordable compared to the 2013 rates of the other 121 Northwest cities.
The plant officially went on line in October. Jerry Jay, chief operator for the plant, said the resulting increase in discharge quality has made the water crystal clear.
Total Suspended Solids (TSS) in the city's discharge averaged 14 Parts Per Million (PPM) in August, and so far TSS levels are nearly 20 times lower through the new system, at just 0.7 PPM. Ammonia levels have also plummeted from 16.1 PPM in August, to less than 1.0 PPM, and Biological Oxygen Demand (BOD) has fallen to 1.0 PPM, from an average of 18.0 in August.
"That's tremendous for our environment," said Hermiston City Manager Byron Smith.
During the ceremony on Thursday, Drotzmann thanked city officials who helped guide the project to its completion, including former Hermiston City Manager Ed Brookshier. Hermiston Chamber of Commerce President Debbie Pedro thanked the city for its efforts.
"Thank you for continually living up to the standards of Hermiston's growth and economic development," said Pedro.