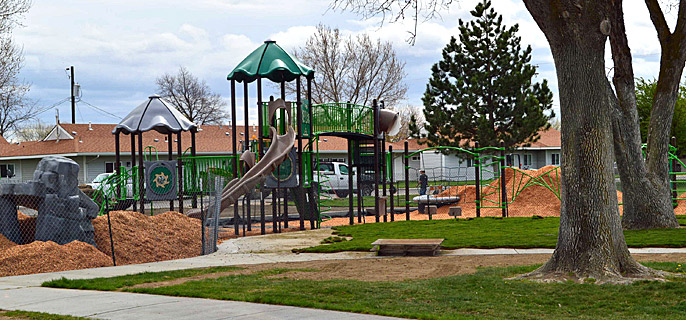 For years, Bob Severson operated his grocery store, Bob's Red Apple, right across the street from Victory Square Park.
It's only fitting then that a new playground at the park will be named Mayor Bob Severson Memorial Playground during a dedication ceremony at 9 a.m., Saturday, April 20. The honor is in recognition of Severson's many years of community leadership and his service as mayor from 2000 until his death in December.
"Mayor Bob was known to be a champion of parks and recreation and the arts in Hermiston," wrote Parks and Recreation Director Larry Fetter in a memo to the Hermiston City Council.
The council passed a resolution Monday to name the playground after the former mayor.
The playground will officially open on April 20 following the dedication and the spreading of wood chips in which the public is encouraged to participate. Those taking part in the chip spreading are encouraged to bring a shovel, rake or wheel barrow.
In addition to the new playground, future improvements to Victory Square Park include renovating the existing public restrooms.