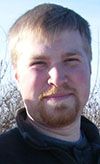 Cody James Ford passed away on Jan. 8, 2021 at his home in Echo at the age of 27.
He was born on Feb. 12, 1993 in Moses Lake, Wash. to Vernon Ford Jr. and Michelle Hancock.
Cody grew up in Walla Walla, Wash. He loved to spend time with his family and friends and was always there to help them whenever needed. He was a jack of all trades and liked the challenge of learning new things. Cody enjoyed hunting and fishing and was a proficient marksman. He was a talented musician and excelled at the guitar, with a few original songs. He had a green thumb and loved gardening. Cody had a great sense of humor and was easy to laugh with and even easier to love. He will be deeply missed by many.
He was a loving brother to Calvin Ford, Joshua Hancock, Jenny Erb, Jeremy Black and Alan Black. He is also survived by his parents, Vernon Ford Jr. and Michelle Hancock; fiancé, Rebecca Reese; uncle, David Rochat, who was like a brother to him; grandmother, Shirley Rochat; and uncle, Steven Ford.
He was preceded in death by his grandparents, Vernon Ford Sr. and Mary Ford; grandfather, Charles Rochat; cousin, Christopher Hancock; aunt, Debbie Ford; aunt, Vicky Morris; uncle, Jim Hancock; and uncle, Brian Rochat.
An outdoor gathering will be held to celebrate Cody's life at the Echo City Hall Park (20 N. Bonanza) on Saturday, Jan. 16, 2021 at 12 p.m.
To leave an online condolence for the family, please go to burnsmortuaryhermiston.com.
Burns Mortuary of Hermiston is in care of arrangements.