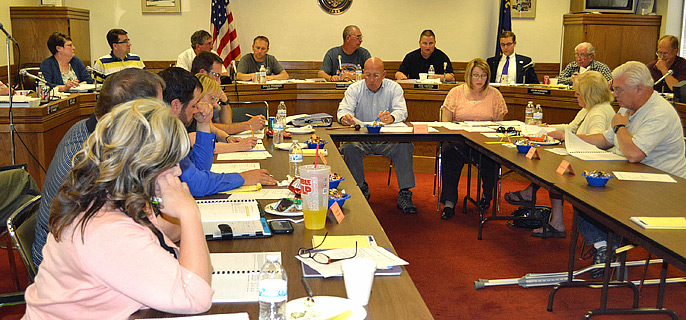 The Hermiston Budget Committee met for three hours Tuesday night to go over the city's proposed $50,559,113 budget for fiscal year 2013-2014.
The 144-page document covers projected revenues and expenditures for each category within each of the city's departments ranging from the police department, the library and parks and recreation.
The proposed budget comes in at about $10.5 million less than this year's current budget, due primarily to an $11 million reduction in projected expenditures on the city's new wastewater treatment facility.
"To this point we have been appropriating the full cost of the new recycled water plant in our annual budget cycle," wrote City Manager Ed Brookshier in his overview of the 2013-2014 budget. "The project is now under construction and the amount budgeted for the new year is the engineer's best estimate of the amount which will actually be expended" during the coming fiscal year.
The city will hold a public hearing on the budget on June 10 prior to the Hermiston City Council formally adopting it.
At Tuesday's meeting, the committee elected Kim Puzey to serve as committee chairman and Mary Corp as secretary.
"The budget is in good shape," Brookshier told the committee on Tuesday. "Everything does look stable." He said, however, that there will likely be some rate increases in the near future.
"As we look forward for the next couple of years, the city is going to have to be looking at some increases in water and sewer rates," Brookshier said. "Also, we have been avoiding any kind of increase in electric rates for some period of time by basically subsidizing the cost of purchasing electricity from our accumulated cash reserves. So we are looking at some increases on the horizon."
Brookshier noted, however, that a recent study showed the city of Hermiston's collective utility rates are about 20 percent lower than any other city of its size in the state.
"All things considered, we're in pretty good shape," he said.
The city's proposed budget is available online at the city's website.