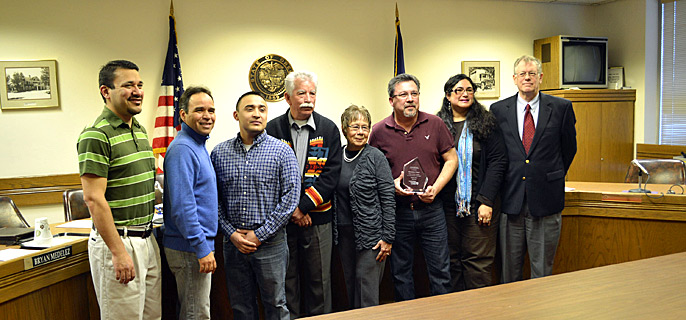 In their first meeting since accepting the Cultural Diversity Award in Washington, D.C., last week, members of the Hispanic Advisory Committee took time to reflect on the honor and the difference they are making in the city of Hermiston.
"The work of the last seven months by the Hispanic Advisory Committee has been recognized nationally," HAC Chairman Eddie de la Cruz said at the committee's meeting Monday night. "I believe this is the first time Hermiston has been recognized for a national award."
Hermiston was honored for establishing the HAC in 2012 and was one of just four cities honored by the National League of Cities for promoting cultural diversity. Three other cities were named runners-up.
At Monday's meeting, Cruz thanked Hermiston City Councilor Rod Hardin for his long-time work toward making Hermiston an inclusive city.
"The city has a history of trying to be inclusive with the Hispanic community," Cruz said. "Rod Hardin has been one of the key people behind all this." Hardin played an integral role in Hermiston being named an "Inclusive City" in 2006 by the National League of Cities.
"An effort was made a while back to make Hermiston an English-only town," Cruz said. "Led by Rod Hardin, that effort was defeated."
For his part, Hardin thanked Assistant City Manager Mark Morgan for his work in submitting the award application, as well as Hermiston City Councilor and HAC member George Anderson for his "efforts to make sure this (the HAC) works."
HAC member Manuel Gutierrez, who also is a member of the Hermiston City Council, traveled to Washington, D.C., along with Cruz and Hardin, to receive the Cultural Diversity Award. Gutierrez said the contributions to the United States made by Hispanic people were made even more evident to him during his trip to the nation's capital.
"We took a walk by the Vietnam Memorial and we saw all the names of Hispanic people on the wall," he said. "We saw how many Hispanic people have died for our freedoms."
The committee also gave an update on the fund-raising efforts for the Cinco d Mayo celebration. About 60 percent of the $10,000 needed for the event has been raised.
One factor beyond the control of the event's organizers is the weather. But that didn't stop Anderson from asking everyone to do their part anyway.
"Everyone can help Cinco de Mayo in one way – pray for good weather," he said, eliciting laughter from the committee. "This is going to be one bad party if we don't have good weather."
Committee member Robert Amaya, however, good-naturedly disagreed.
"Hispanics enjoy it in good or bad weather," he said.