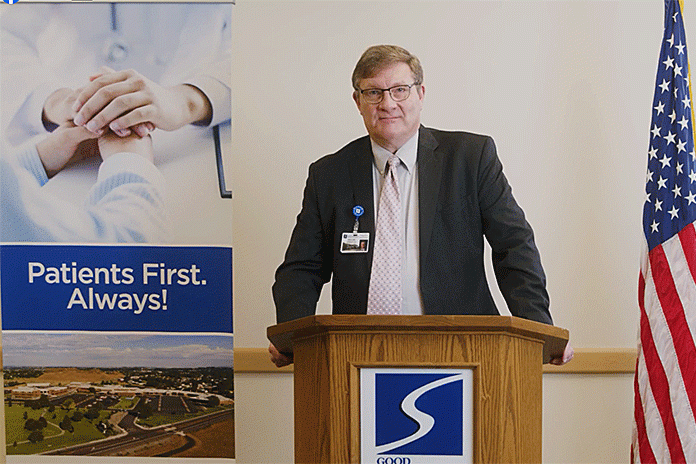 The past year has presented challenges to everyone everywhere, but particularly to the health care industry. Good Shepherd Health Care System President and CEO Brian Sims on Wednesday singled out the hundreds of employees and volunteers that helped make the "Good Shepherd Experience" a positive one for the thousands of patients they serve each year.
Sims and Board of Trustees Chair Sue Daggett spoke during Good Shepherd's annual Community Meeting, held virtually for the second straight year.
"The Good Shepherd Experience starts and ends with the more than 750 employees and more than 50 volunteers," said Sims.
During the address, Sims thanked Good Shepherd's board of trustees, its executive team, medical staff leadership, the Good Shepherd Community Health Foundation as well as the hospital auxiliary and its team of volunteers.
"These folks are the lifeblood of this organization and without them we would struggle mightily to fulfill our commitment to serve," said Sims.
In the past year, the health foundation awarded $212,575 in grants, $71,000 in medical scholarships and raised more than $35,000 during its annual golf tournament.
Sims also noted that Bob Green, the foundation's director, will retire at the end of 2021.
"We're sad to see him go," said Sims. "He will be greatly missed."
The auxiliary's 62 members awarded $6,000 in scholarships last year and the CareVan program, with its 11 volunteers, put in more than 4,000 volunteer hours and provided 8,599 CareVan transports.
"Our staff defines the role of health care workers' purpose," said Sims. In the past 12 months, the ER handled 20,000 emergencies while the birth center delivered 327 babies. Overall, the hospital treated more than 3,000 patients and conducted more than 3,500 surgeries.
The Good Shepherd Home Health nurses traveled a combined 116,323 miles caring for patients, making nearly 10,000 home visits. Urgent Care conducted 4,220 COVID-19 tests.
Sims shared a story from the past year that, for him, symbolizes the care Good Shepherd shows for its patients. A patient, who was a registered organ donor, arrived with serious injuries.
"We knew he would not survive his injuries," said Sims. A transplant team was called in.
"During a very somber ceremony, our staff lined the hallways where the patient was escorted to surgery one final time," said Sims. "What made this even more touching was this occurred around the holidays. It reinforced my faith in one of the oldest and most honorable professions on this earth."
Good Shepherd received the 2021 Hope Award from the Pacific Northwest Transplant Bank.
"Each time I see that award, it reminds me of that one night when one life was lost but several more were saved," he said.