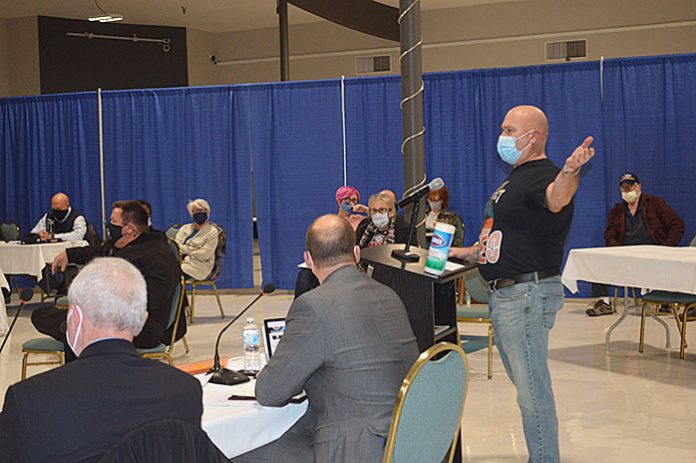 About a dozen or so people vented their frustrations over the COVID-19 pandemic lockdown during Monday's Hermiston City Council meeting.
"I grew up on Main Street," said Allen Aichele. "I know these people with businesses. To see what's happening to these people is not right. We can't be like the federal government and look the other way."
Aichele's words drew applause from several people in the audience. Aichele and others said they fear businesses are going to shut down permanently if the state-mandated lockdown isn't lifted. Some in the audience want the city to take unilateral action and end the county's lockdown status, something the city cannot do. Umatilla County was placed in the "Extreme Risk" category in December due to rising cases of COVID-19. This month, Morrow County was moved from "Extreme Risk" to "High Risk." Businesses in counties in the Extreme Risk category are under greater restrictions.
Steve Warr thanked the city council for doing what it can to help struggling businesses, including his daughter's business, which Warr said was the recipient of a grant. But he also appeared to play down the seriousness of the pandemic by sarcastically saying he was grateful for COVID for eliminating all deaths that were formerly attributed to pneumonia, diabetes and other leading causes of death.
Warr said he has known several people who have tested positive for COVID and all of them recovered, including his 85-year-old father.
"If there are situations that take care of COVID, why are we still in lockdown?" he asked. "It's time to open it up." Warr didn't elaborate on what the situations were that take care of COVID.
Marilee Cottrell said the lockdown isn't affecting everyone equally.
"All our elected officials are still receiving paychecks," she said. "They aren't having trouble paying their bills. It's the people who built this country who need help."
She said people will be flat on their backs if the lockdown isn't lifted.
"Oregon and Hermiston have to re-open for these people, for their livelihoods, for their future," she said.
Councilor Rod Hardin said he was sympathetic to their concerns and shared their frustration, but the decision to re-open is not Hermiston's to make. He said Morrow County's kids are back in school because their case numbers have decreased, unlike Umatilla County.
Councilor Roy Barron also said he understood the anxiety felt by the community, but the answer to ending the lockdown and the pandemic remains the same.
"Wear your mask, wash your hands and practice social distancing," Barron said.
Warr said he doesn't blame the city specifically and said he appreciated having the chance to speak up.
"We're not here to chastise you," he said. "We're just frustrated."