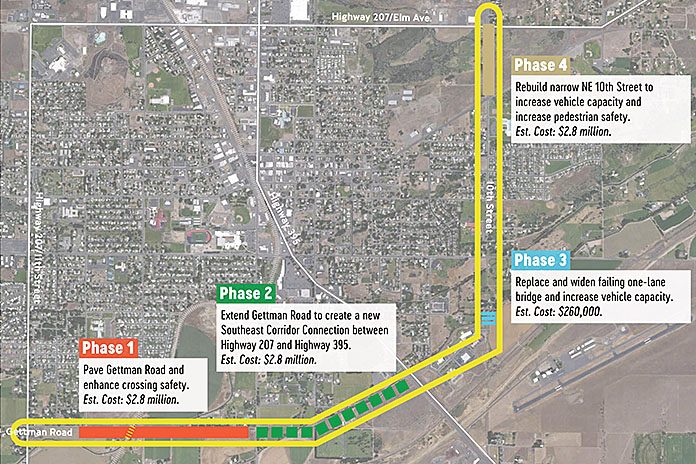 Multiple local partners have written letters of support for the Gettman Road/Railway Alternative Transportation Enhancement (GRATE) Project, which would create an alternative route for traffic in southeast Hermiston to reduce congestion on highways and create a safe railroad crossing.
The Umatilla County Board of Commissioners, Hermiston School District, local school leaders, and the Confederated Tribes of the Umatilla Indian Reservation have each signed letters of support for the project identifying its positive impact on accessibility and safety in Hermiston. Local business leaders are also developing letters of support.
The GRATE project would be completed in four phases:
Phase 1: Pave the full extent of Gettman Road between OR Highway 207 and S. 1st Street and enhance crossing railroad crossing safety
Phase 2: Extend Gettman Road from S. 1st Street to U.S. Highway 395, creating a new connection from OR Highway 207
Phase 3: Replace and widen the one-lane bridge on S.E. 10th Street to increase vehicle capacity
Phase 4: Rebuild the narrow N.E. 10th Street to increase capacity for vehicles and pedestrians
Local partners were asked to comment on the current challenges posed by the lack of access in southwest Hermiston and potential impact of this project from their purview. Below are comments from their letters of support:
Umatilla County Commissioners wrote that the GRATE project will reduce barriers created by the rail line, increasing access to employment, education, and government services while diverting passenger vehicles from U.S. Highway 395 and OR Highway 207.
"The GRATE project will directly help alleviate congestion at (the U.S. 395 OR 207) intersection by establishing the final linkages necessary in the south end of Hermiston to allow passenger vehicles from around western Umatilla County to skirt around the southern edge of the city."
Hermiston School District Superintendent Tricia Mooney wrote that the project will reduce mobility issues and safety concerns for students, especially Desert View Elementary, Armand Larive Middle School, and Sandstone Middle School which are near the project.
"Because Highland Avenue is the only east/west crossing of the rail line in southern Hermiston accessible from US 395, (Mid-Columbia Bus) is forced to take a circuitous route to access Desert View Elementary and Armand Larive Middle School," she wrote. "Not only does this additional mileage increase greenhouse gas emissions, but the crossing which they must utilize routes them through the heavily congested intersection of 1st and Highland."
Sandstone Middle School Principal Lori Monaco-Mills and Desert View Elementary School Parent Teacher Organization President Katie Fetterhoff also wrote letters of support because the project will enhance student safety and increase access to the schools.
The Confederated Tribes of the Umatilla Indian Reservation, which operates the Hermiston Area Regional Transit (HART) fixed-route bus service through Kayak Public Transit, wrote that planning bus service in Hermiston is difficult because of the lack of east/west railroad crossings. Because of this, the current route includes the back alley of the Hermiston Plaza and several residential neighborhoods which adds time to the route.