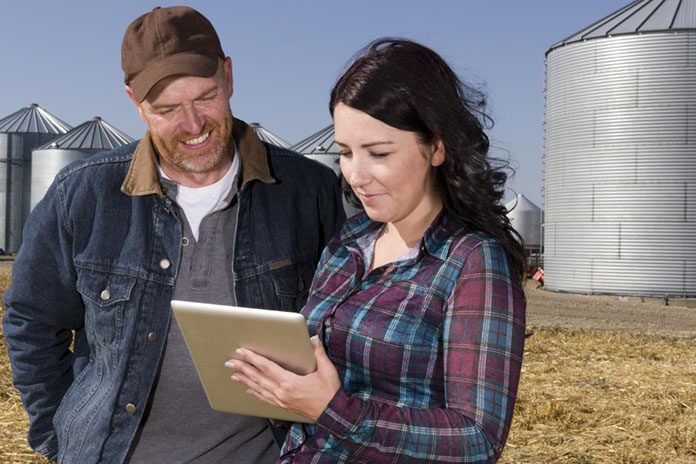 Modern day farmers and ranchers increasingly rely on computers and other technological advances to help run their operations.
That's especially true for those in Oregon. Results of a new survey on computer usage confirm that the state's farming and ranching community is among the national leaders in several categories, enhancing Oregon's reputation as being extremely tech savvy.
"The computer is essential in the workplace for most professions these days, it's no different on the farm," says Oregon Department of Agriculture Director Alexis Taylor. "Oregon producers have been at the forefront of adopting technology throughout their operations, whether it's controlling center pivot irrigation from their smart phone or using a computer system for site-specific weed control."
The nationwide survey is conducted every two years by the US Department of Agriculture's National Agricultural Statistics Service (NASS). Oregon is in the top ten in nearly all 2017 survey categories. Oregon is third in the percentage of farm operations with access to a computer, at 85 percent, trailing only Wyoming and Utah. Oregon is also tied for fourth in the percentage of operators that own or lease computers (81 percent) and tied for second in the percentage of operations with internet access (82 percent). Oregon is tied for tenth in the percentage of farm operations using a computer for farm business (55 percent). Oregon is also ranked fourth in the percentage of operations using a smart phone or tablet to conduct business. In all categories covered by the survey, Oregon is well above the national average.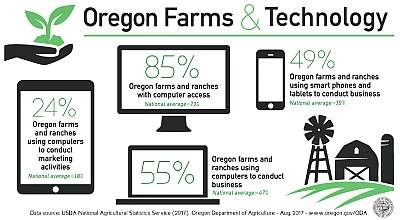 While other states have made huge strides in the percentage of farmers and ranchers using computers as part of their business activities, Oregon's numbers are up only slightly in recent years, suggesting that it had reached a peak after being an early adopter of computer technology.
"Oregon has always been a progressive state and I think early on we saw people using a tool that is advantageous for them," says ODA Information Systems Manager Steve Poland. "The internet and access to it gives them the ability to do their business more efficiently and effectively."
At some point, all states may reach a saturation point when it comes to computer usage. But for now, nearly all are showing improvement in farm computer usage. For Oregon, the 85 percent computer access mark is a slight increase from 84 percent recorded in 2013 as the state continues to fill in the gaps of computer accessibility for rural Oregon communities.
At 24 percent, Oregon is tied for tenth in the percentage of farms and ranches using computers to conduct agricultural marketing activities over the internet by computer, with Iowa the national leader at 29 percent. Oregon's farmers and ranchers have shown steady increases in the past four years as operators are using the computer to do more than just get information.
As a region, the western US continues to pace the nation in most categories of the computer usage survey. By type of farm or ranch, results for individual states are not available. But comparing computer usage by crop and livestock farms nationally, 52 percent of the crop producers use the computer for farm business compared to 42 percent of the livestock producers.
In Oregon, 12 percent of farm operators used mobile internet service for cell phones and other mobile devices– a statistic that is expected to grow in the years to come. Poland speculates that Oregon agriculture, in some cases, has actually outgrown the computer. The rise of mobile devices allows many farmers and ranchers to have portability while maintaining access to the internet. In the palm of their hand, operators use mobile devices to combine cell phones, web browsers, and portable media players as they go about their daily business.
"We are seeing people getting away from using a laptop to using an iPad or some type of tablet device," says Poland. "More farmers and ranchers are using smart phones with everything in them– internet access, voice communication, a camera– all in one piece of equipment. It's all in the applications. It's like having a small, portable desktop computer that can perform most of the functions needed in today's high tech world, and more."