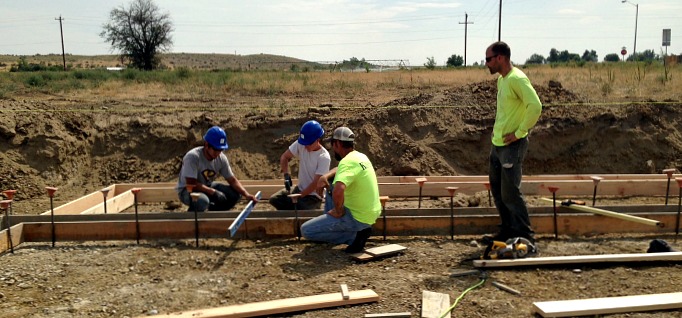 Early this week, local students began preparatory work for the foundation phase of the first student-built home.
Working under the direction of local professionals provided by the Northeast Oregon Home Builders Association (NEOHBA), students in the Columbia Basin Student Homebuilding Program began setting forms for the footing/foundation components for the home. A 2,050-square-foot, one-story, craftsman-style house with a large 676-square-foot garage, will serve as the first of 11 homes to be built by students.
"The mentorship, guidance, and expertise provided by our local professionals have been outstanding," said Wade Smith, deputy superintendent for the Hermiston School District. "The students have already learned a tremendous amount about the process and are well on their way towards building a high quality home."
Four students, paired with two mentors provided by NEOHBA member Knerr Construction, have been busy putting in eight hours a day before school starts to ensure the project stays on schedule.
"With an expected completion date of the first of June, it is crucial that we stay on target," said Curt Berger, Hermiston High School teacher and project lead. "These students are amazing workers and it has been spectacular watching them learn and interact with the two experts from Knerr. The professionals have already commented on how much they are going to miss working with the students when the concrete phase of the project is complete and we move on to another mentor for the framing component of the home."
Today, students will be presenting the program to the Hermiston Rotary Club, and will soon be joined by eight additional Hermiston students as well as four more from Stanfield and Umatilla, once school resumes.
For information about the Columbia Basin Student Homebuilding Program, including design plans for the first home, pictures, and live video feed, visit the program website.
More Stories from Northeast Oregon Now:
Oregon Ranks High in Nationwide Ag Production
HPD Arrests 2nd 'Person of Interest' in Pasco Murders
EOU Continues Outreach to Hispanic Community