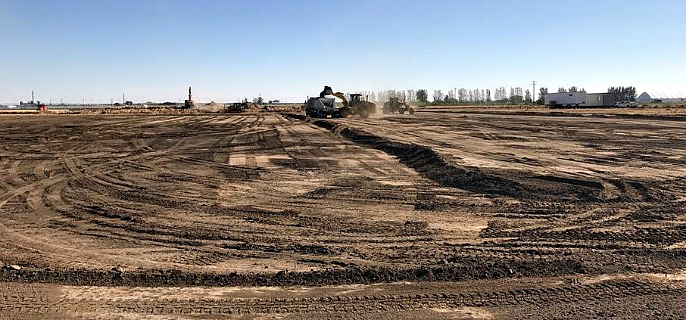 Dirt work has officially begun at the site of the Eastern Oregon Trade and Event Center to construct a new rodeo arena.
The arena, being built by Hendon Construction, is scheduled to host the 2017 Farm-City Pro Rodeo during the same time as the Umatilla County Fair. A contract for purchase of barn buildings for the new fairgrounds to host the Umatilla County Fair is expected to be ready to award on Oct. 21.
"This is a very exciting time for the EOTEC Board, and for Umatilla County as a whole," said Hermiston City Manager and EOTEC Chairman Byron Smith. "Thanks to the community's patience and generosity, the region will soon have a new facility to meet the community's needs well in to the future without incurring crippling debt for future property tax payers to shoulder."
Moving the location of the Umatilla County Fair, and Farm-City Pro Rodeo has been a considerable task which the city of Hermiston and Umatilla County have been working on since the early 1980s when property was acquired south of town. The effort received a major boost when it received a $7.9 million contribution of State of Oregon Lottery dollars. The Hermiston School District had already purchased the existing fairgrounds property which started the accumulation of construction funds. Hotel owners in western Umatilla County, recognizing the benefit of the new facility, have since supported a $1 per night charge to help cover the costs of promoting the new facility, and another $1 per night charge to help fund construction. Finally, community members from across Umatilla County stepped forward in early 2016 to donate an additional $2 million toward development of the new facility.
"Too often with the development of large public facilities like this, the stakeholders get too anxious and end up making poor business decisions which end up saddling the public with major long-term property tax debt," Smith said. "The community should be very proud that their patience and generosity has allowed the EOTEC Board to develop this project in a logical and fiscally responsible manner."
Development of the Eastern Oregon Trade and Event Center including the new barns and rodeo arena has been made possible through extensive utilization of local construction contractors. Major local contractors on the project include Hendon Construction, Knerr Construction, Barton Laser Leveling, and many more.