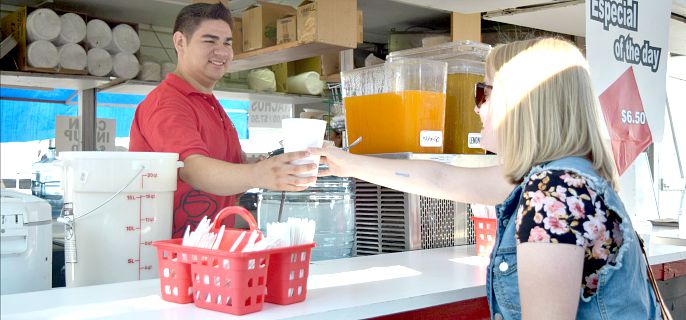 Burgers, hotdogs, elephant ears, and funnel cakes have always been a staple of summertime concessions at the fair. But stroll around the grounds of the Umatilla County Fair and you'll find vendors featuring meu items beyond what people have come to expect.
Ruty's Restaurant has been serving authentic Mexican food at the fair for the past three years. It's been in business on Hermiston Avenue for seven years, nothing quite compares to their five days at the fair.
"These past few days have felt like a month," says Jesus Hernandez, an employee at Ruty's. "Being on your feet from 9 a.m. to midnight each day is exhausting."
At the end of the day, though, all of that hard work pays off.
"The business here is great," Hernandez said. "We meet a lot of great people and make good money."
Just a couple of booths down is Vange John Memorial Hospice, which serves Umpqua ice cream. Hospice employees and volunteers comprise the booth's staff.
"We've been working at the fair for the past 10 years," said Carollyn Robinson. "It's been a pleasure every time."
The Hospice folks make sure to change things up in order to keep each year a new experience. Three years ago, their menu consisted of barbeque food, but today, they specialize in frozen goods. Some of their most popular products include huckleberry cheesecake and lemon poppyseed ice cream, and Walchli watermelons.
Taste of Manila has been making the commute from the Tri-Cities to Hermiston for the past nine years.
"We had a business open in the Tri-Cities for five years," said Nany Scott. "But we had to close after the owner, my husband, passed away."
Customers at the fair keep Taste of Manila busy, enabling them to make over $2,000 each day.
"All of us love it here at the fair," said Scott. "It's hard work, but we can't stay away."