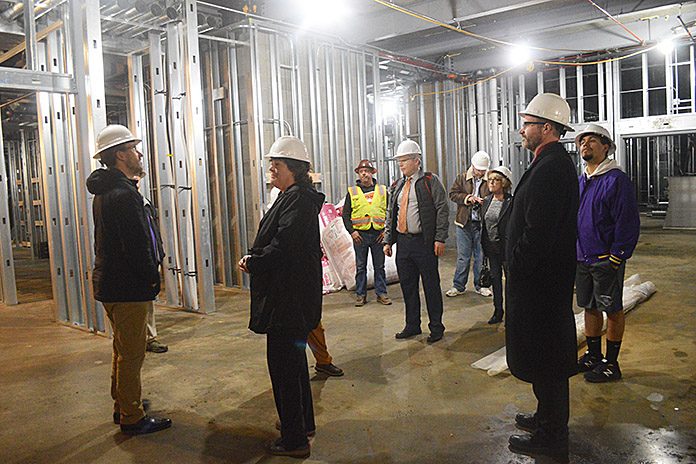 Nearly a year after the old Hermiston City Hall was demolished, it's $8.6 million replacement is on schedule to open this fall.
On Monday night, members of the Hermiston City Council donned hard hats for a tour of the project's progress. Hermiston City Manager led the council through the building, pointing out its many features.
The 22,000-square-foot building will be more than double the size of the old city hall and will allow the city to consolidate its various departments into the same building, rather than having the building department in a separate building and the planning department in another and the municipal court in still another.
The new city hall will have space for municipal court, which has been operating out of the police department's building, giving the police department room for expansion. The new city hall will also house both the building department and planning department on the same floor.
Smith said a lot of work is going on simultaneously.
"We got plumbing, electrical, and heat and air guys all working together," said Smith.
The new building will have space for attorneys to meet privately with clients. The county will have office spaces in the basement while Hermiston Energy Services will operate from the upstairs.
The city hall will also feature a state-of-the art security system and fire suppression system.
Smith said he expects the building to be ready by September or October.
Some decisions still need to be made – both small and large. Smith said furniture has yet to be finalized as well as a plan for what to do with the old Carnegie library building once the building department moves out.
He said the city has applied for a grant in hopes of turning it into a museum or cultural center.
In the meantime, Smith is enjoying having a hand in the construction and planning.
"I've never built a city hall before, so this is fun," he said.
To follow the progress of the city hall construction, visit the city's website.