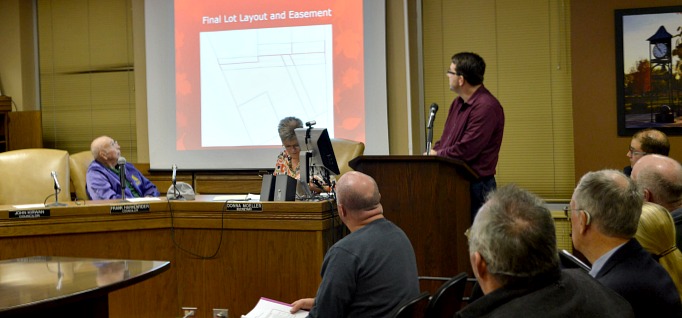 The Hermiston City Council voted Monday night to begin vacation proceedings for W. Ridgeway Avenue in order to accommodate development on the old Tum-A-Lum site.
As part of the street vacation proceedings, the city is proposing to protect vehicle movement with a non-exclusive public access easement in an effort to prevent any negative impact to Auto Kool, which abuts the north side of the street right-of-way.
At the Oct. 13 city council meeting, Hermiston attorney and former councilor George Anderson, who is representing Auto Kool owners Darrel and Rhonda Sallee, told the council that if the city initiates vacation proceedings, it would have a harmful financial impact on his clients by restricting access to their property lots.
The old Tum-A-Lum site is owned by Mitco Investments.
In a memo to the mayor and council, Hermiston City Planner said the city is also proposing abandoning the existing 2-inch municipal water line used only by Auto Kool, and install new water meters and install new service lines at no cost to Auto Kool.
"This will have the dual benefit of eliminating maintenance of an old, small water line and eliminating the need for a public utility easement across private property to protect the line," Spencer wrote.
Hermiston resident Steve Williams asked the council why it would proceed if the cost to the city exceeded any public benefit.
Hermiston City Manager said Monday's vote by the council was just to initiate the proceedings. Hermiston Mayor Dave Drotzmann said the public will have plenty of opportunity to weigh in on the issue.
The matter will now go before the public when the council holds a public hearing on Dec. 8.
More Stories from Northeast Oregon Now:
Bulldogs Shut Out Sandy; Advance in Playoffs
Hermiston Ranked 'Happiest' City in State
City Seeks Facade Grant Applicants