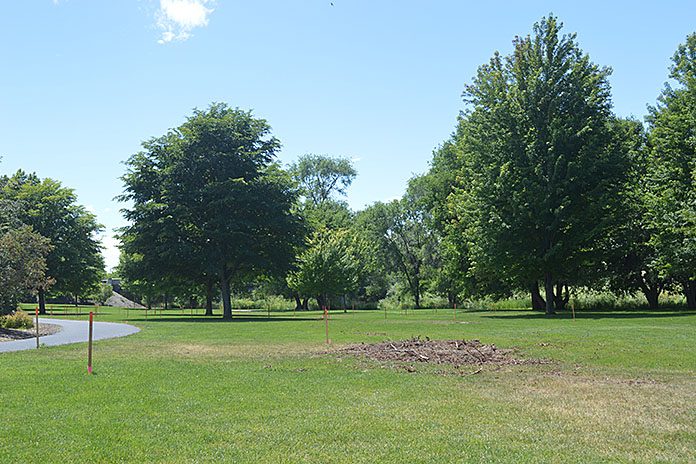 The Hermiston City Council on Monday approved a contract for the construction of a new playground and parking lot at Riverfront Park.
The council awarded Granite Construction with a contract after the company came in with the lowest bid at $154,140. Other bidders included Bolen Construction with a bid of $186,884 and Crestline Construction with a bid of $207,650. Engineers with Anderson Perry & Associates recommended awarding the contract to Granite Construction after reviewing the bids.
Riverfront Park was heavily damaged by flooding in both 2019 and 2020.
"2020 caused an even greater amount of damage to the parking lot and playground area," said City Manager Byron Smith.
The city qualified for federal assistance from FEMA to clean up and restore the park.
In an effort to prevent future flooding from causing similar damage, both the playground and parking lot will be relocated to the center of the park. FEMA, which approved the relocation plan, will reimburse the city for 75 percent of the relocation costs.  FEMA has already reimbursed the city of most of the clean-up cost associated with the flooding.
The new parking lot and playground's new location will receive flood water from time to time, said Smith, but added that the relocation area is outside of the main flow of flood water and is protected somewhat from the location of the Highland Avenue Bridge.
"It'll keep flood waters from lifting up large pieces of asphalt and carrying them an amazing distance," said Smith. "That was pretty scary."
Work accomplished to date has included rebuilding the wooden fence, repairing damaged trail sections, repairing irrigation, and replacing benches.
The city has already purchased the replacement playground equipment and will install it once the parking lot and playground site are completed.  There is currently no sewer line near Riverfront Park, so the park's restroom, which is served by a septic system that was in place prior to the development of the park, will remain in its current location.