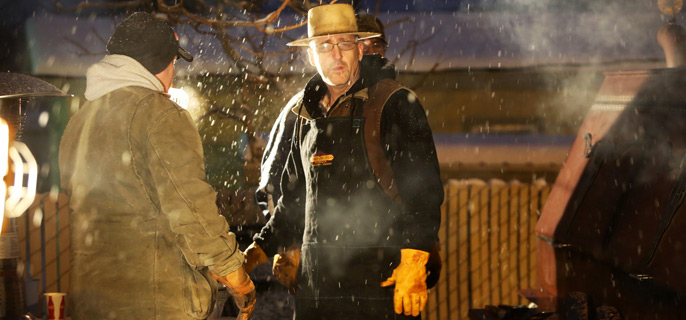 About 420 people braved the snow outside to celebrate the Wild West and support the Hermiston Education Foundation on Saturday.
The fifth annual Beach & Beef Crab Feed and Auction raised more than $30,000 for the local nonprofit.
"The Hermiston community is awesome," HEF Board Chairwoman Judy Bracher said Monday. "Considering the weather, we expected turnout to be low, but it was just a huge, huge success. The final numbers aren't in, but I think we made our goal."
It's no surprise the highest item on the auction block was a 2003 Toyota Camry donated by Rogers Toyota. The vehicle sold for $5,000, and the business agreed to donate a match of the auction price, making the total $10,000 for the foundation.
The auction is only half of the event, however, as attendees enjoyed all-you-can-eat crab, beef kabobs and sides. Tom Spoo prepared the beef on site.
In addition to the guests and HEF organizers, about 50 Hermiston middle and high school students gave their time to help out with the event.
All proceeds from the event will go to the Hermiston Education Foundation, which provides grants to educators in the Hermiston School District. The grants supplement education for Hermiston students and can cover items such as iPods, musical instruments and field trips.
The next fundraiser for the Hermiston Education Foundation is the annual fun run and walk, which will be in the fall. The next Beach & Beef will be Feb. 7, 2015.
Beach & Beef has traditionally been the second Saturday in February, but organizers have already chosen the first Saturday to avoid conflicts with President's Day weekend and Valentine's Day in 2015.
"I have it on my calendar already," Bracher said. "I can hardly wait."