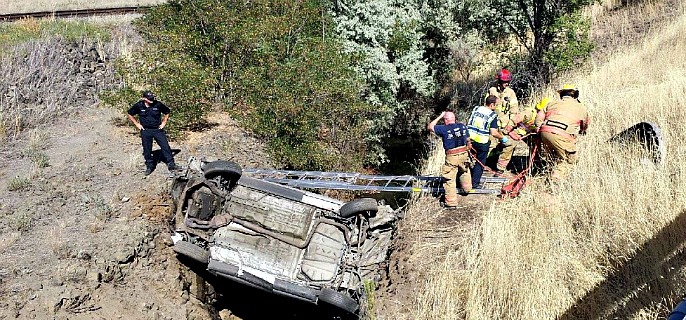 Emergency personnel crews rescued an Irrigon woman whose car had gone off Old River Road Monday afternoon, landed upside down and wedged between the walls above a creek.
Hermiston Fire and Emergency Services received a report of a car accident on Old River Road near N.W. 11th Street around 3:54 p.m. A four-door sedan driven by an elderly woman had gone off the road, over a guard rail and wedged into a rock fissure, suspending the car 10 feet above the water below.
Crews from Hermiston, Stanfield and Umatilla fire departments, as well as the Oregon State Police and Hermiston Police arrived to assist in rescuing the driver. According to the Hermiston fire department, crews repelled off of an aerial ladder truck to get to the victim.
The woman hoisted into an aerial ladder platform and moved to the road where she was then taken to Good Shepherd Medical Center.
The woman's name has not been released. Her injuries were not life-threatening.
For more photos, visit the Hermiston Fire and Emergency Services website.