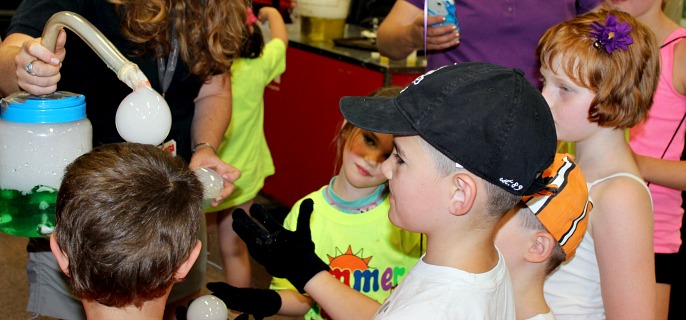 Triple-digit temperatures couldn't keep the crowds from Hermiston's Main Street this weekend for the annual FunFest.
The action stretched from Highway 395 – where chainsaw carvers transformed blocks of wood into bears, fish, and furniture – to the lawnmower races revving up to Fourth Street. The morning started out with smiles and comfortable temperatures that soon jumped as high as the energy level.
While visitors to McKenzie Park, could enjoy the farmer's market, the classic car show and the park's supply of shade trees, those on Main Street turned to other avenues to enjoy the event and keep their cool.
Main Street businesses, including Defining Details Photography and Neighborhood Books, reported steady crowds during the event, and booth vendors sold a number of neck bands, fans, hats and sunglasses all designed to help customers in the summer weather.
In the OMSI exhibit, families beat the heat with science exhibits, air conditioning, dry ice and liquid nitrogen. During one demonstration, OMSI's Jaimie Thompson delighted children with an experiment involving dry ice bubbles – solid when held in a gloved hand but vapor when touched by skin or other oils – and the science behind them.
"It's been good. We've had a steady stream of visitors, and we have a lot of cool stuff planned," she said. "Plus, it's a little bit cooler in here, which is nice, compared to outside."
On the street, visitors and vendors waved fans and held personal misters. Multiple booths handed out free water bottles, and slushies, smoothies, and snow cones made popular refreshments. At the Advanced Pediatric Dentistry area, employees had an extra way of beating the head.
Armed with arm-length water guns and brightly-colored shirts, the Advanced Pediatrics crew kept visitors cool and in line.
"It's just to help with the heat and have a little fun," Mellissa Renner said. "Last year we had one for if the people (in the dunk tank) needed to cool off, but this year we busted out a couple more to stay cool ourselves."
More Stories from Northeast Oregon Now:
Emergency Personnel Perform Amazing Rescue
Logging Company Finds Skeletal Remains
Good Shepherd Breaks Ground on Expansion