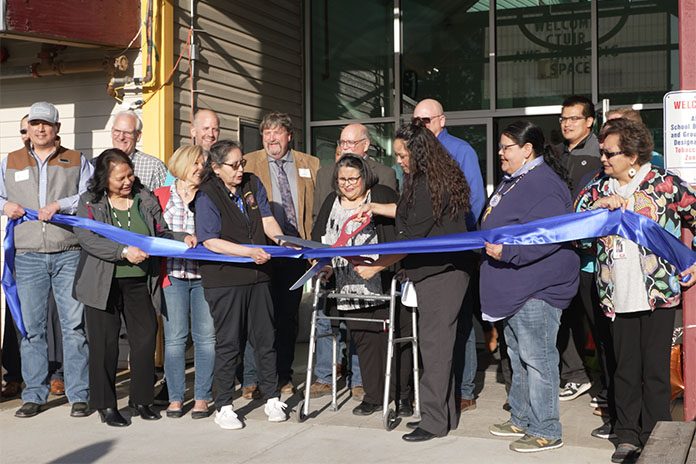 The Confederated Tribes of Umatilla Indian Reservation (CTUIR), Amazon Web Services, Inc. (AWS), community leaders, and government officials, recently celebrated the grand opening of the AWS Think Big Space, an educational lab located at the CTUIR Education Department's After School Center.
The new AWS Think Big Space is designed to help students explore what the tribe calls "CSTEM" – cultural science, technology, engineering, and mathematics – and will focus on inspiring learning around environmental topics.  AWS selected CTUIR as the first indigenous community to receive an AWS Think Big Space.
"With this educational lab we have a unique opportunity for our students, families, and all tribal descendants to extend their learning of STEM topics and examine how they connect to our teachings, history, land, and food traditions," said Kat Brigham, chair of the Confederated Tribes of the Umatilla Indian Reservation Board of Trustees. "We hope this complementary approach empowers a new generation of students to 'Think Big' about complex problems that impact our communities."
By connecting scientific study with their cultural traditions, the tribe will lead further exploration around First Foods, traditional foods eaten by the community for countless generations. It will serve children, and all members of the tribe, so anyone can learn about the innovative ways to protect these foods, which have provided sustenance and promoted health in native communities. The space will utilize scientists, botanists, hydrologists, language speakers, singers, gatherers, fisherman and hunters as part of its curriculum. The space will also feature AWS technologies, as well as an integrated environment where everything from the furniture, technology, and curriculum work together to support interactive hands-on technical learning and cloud computing training. The space will also include murals that celebrate the community's rich traditions.
"We're excited by the vision that the CTUIR has for this AWS Think Big Space," said Michael Punke, VP of Global Public Policy for AWS. "We're committed to making a positive impact in the communities where our employees live and work. We hope this space, with its pioneering curriculum and focus on the environment, will inspire students to explore STEM through a unique lens and help them to build their best future."
This is the second AWS Think Big Space in Oregon. In 2021, AWS InCommunities helped fund the AWS Think Big Space at the Port of Morrow's Sustainable Agriculture and Energy (SAGE) Center in Boardman. Additionally, this effort is one of several initiatives that AWS is collaborating on with the CTUIR. Other collaborations include the creation of the Umatilla Language Online dictionary, as a way to preserve the Sahaptian language.
AWS InCommunities was established to create and deliver innovative programs that will have a lasting impact in communities where AWS has a physical presence. It aims to support meaningful local programs to help make a positive impact.