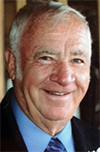 Curtis Eugene "Curt" Hinkle Sr. of Hermiston died on May 31, 2018 in Hermiston at the age of 89.
He was born on Nov. 15, 1928 in Barnsdall, Okla. the fifth of nine children born to King Anderson and Katie Bell Hinkle. He was the surviving sibling of his family.
Curt spent his youth in Oklahoma working on the family farm before venturing out on his own at a young age. Looking for a better life, the Hinkle family moved to Wilder, Idaho to join Katie Bell's family. Curt later joined them before entering the United States Army. He was stationed at Headquarters Special Troops Command in Fort Benning, Ga. to train new recruits until his honorable discharge in 1953. Curt was a sergeant with the 30th Infantry Regiment Company F.
Before leaving for the Army, he met Irene Kuck and they wed in 1951. Four children were born of that marriage: Viola Tiegs of Spokane, Wash; Curtis Eugene "Gene" (Kay Lynn) Hinkle Jr. of Boise, Idaho; Sherrill (Rod) Lane Moody of Cottage Lake, Wash; and Lisa (Tom) Lappe of Dell, Mont. Curt and Irene later parted ways.
Curt's younger family years were spent water skiing, fishing and camping, horseback riding with friends and family at various lakes in Idaho, as well as taking road trip vacations, touring all the states that he traveled to while working as a young man. While living in Caldwell, Idaho, Curt was a member and active volunteer leader of the Canyon County Mounted Sheriff's Posse, as well as the Caldwell Rodeo Club. He later joined the Jefferson County Mounted Sheriff's Posse and the Bonneville County Mounted Sheriff's Posse while living in Idaho Falls, Idaho.
Curt married Barbara Riggan on March 12, 1977 in Idaho Falls. Barbara brought three kids into the union: Bret Riggan of Salmon, Idaho, Shelly (James) Allred of Rigby, Idaho and Bette (Con) Higley of Kennewick, Wash. Throughout their 41 years of marriage, Curt and Barb shared their love for horses and riding in the posse together, going on trail rides, as well as snowmobiling, hunting, camping, fishing, traveling in their motorhome, and lots of golf.
Curt started his working career with the J.R. Simplot Company in Caldwell in 1953 at the age of 25. His leadership abilities and exceptional work ethic resulted in plant management positions in Caldwell and Idaho Falls and ultimately brought Curt and Barbara to Hermiston in 1980, with Curt as the production manager of the Hermiston plant. He retired in 1987 after proudly working for Simplot for 35 years. Shortly before retirement, he developed a passion for golf. He and Barb took to the greens, and in 1985 they both traded in their cowboy boots for golf shoes and moved into a townhouse on the Umatilla golf course.
Curt was recognized as a lifetime member of the Benevolent and Protective Order of Elks. His love and dedication for the Elks started in Caldwell and remained until his passing. He was exalted ruler of the Hermiston lodge in 1984 and 1985 and held various chairs throughout the years.
Curt was an active outdoorsman and enjoyed spending time with family and friends. He was never a man to sit still for long indoors and was always working on countless projects. Preparing a meal for his family or friends brought him great joy. Nothing pleased him more than helping and doing for others. Curt didn't know a stranger, lived life to the fullest and never forgot his humble beginnings. His greatest pride was his children and their families. Curt was also a wheeler and dealer and was always on the lookout for a "good deal."
Fulfilling Curt's wish, a celebration of life will be held in his honor at 2 p.m. on Saturday, June 16, 2018 at the Hermiston Elks Lodge, 480 E. Main St. Military
honors will be given by the American Legion and VFW, and a social gathering will follow.
In memory of Curtis Hinkle and in lieu of flowers, donations can be made to Camp Meadowood Springs, P.O. Box 1025, Pendleton, Ore., 97801 or meadowoodsprings.org, or to your local Humane Society.
Please sign the online condolence book at burnsmortuaryhermiston.com.
Burns Mortuary of Hermiston is in care of arrangements