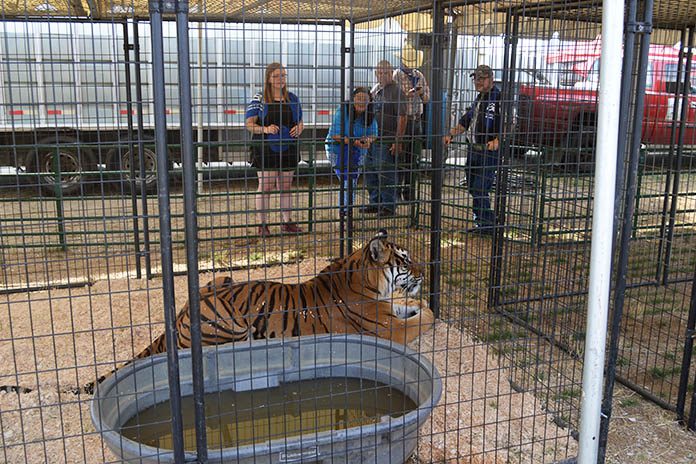 Day 3 of the 2019 Umatilla County Fair is under way with plenty of fun and entertainment for everyone.
The headline entertainment tonight is the Georgia Satellites. Best known for their 1986 hit Keep Your Hands to Yourself, the band's debut self-titled album hit platinum right out of the gate. The band's lineup has changed over the years, but lead guitarist Rick Richards is back with the band. The Georgia Satellites take the stage tonight at 9 p.m.
Other entertainment to look for is comedic hypnotist Chris Mabrey whose act incorporates audience members' participation. Mabrey, performs over 200 shows each year, performs several times each day at the fair.
Be sure to check out the Walk on the Wild Side exhibit featuring exotic animals including bobcats and tigers. The organization rescues and rehabilitates exotic animals and educates the public about their role in the wild and the threats they face.
Louie Foxx entertains the crowds each day with his blend of magic and comedy. Foxx has appeared on America's Got Talent, How 'Bout That and others.
Juggler Jeremiah Johnston is another entertainer that likes to pull members of the audience into his act. Johnston's act features stunts, laughs and acts of dexterity to keep the crowd at attention.
Other acts and fun at the fair include Ms. Pearl's comedy and variety show as well as the Barnyard Adventures for kids, sponsored by Family Health Associates.
Today at 4 p.m. is the RDO Kids Tractor Pull at the Les Schwab stage. Other contests coming later in the week include the popular Cutest Baby Contest at 10 a.m. on Saturday, and the watermelon seed-spitting contest set for 2 p.m. on Saturday.
Gates open each day at 9 a.m. and the carnival opens at 2 p.m. except on Saturday when it opens at noon. Day 2 of the Farm-City Pro Rodeo gets under way around 7:30 p.m. this evening.
For more information, visit the the Farm-City Pro Rodeo website and the fair website.