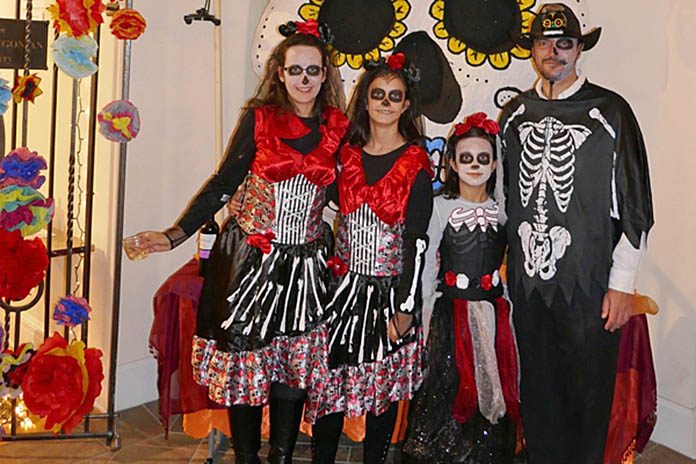 The Pendleton Center for the Arts is bringing its bi-annual Gala Auction back to an in-person format on Saturday, Nov. 5, taking inspiration from a popular Mexican holiday. The Day of the Dead, or Dias de los Muertos, celebrates and honors deceased loved ones with a vibrant mix of festivities.
"In 2018 we chose Dias de los Muertos for the theme of our gala, and the mix of colorful décor and music was so fun that we decided to celebrate it all over again," said Arts Center Executive Director Roberta Lavadour. "But really, it was an excuse to have Mireya Gavia de Wolf cook amazing traditional Mexican food again." Wolf was born and raised in Guanajuato, Mexico, one of the country's most beautiful cities, known for its art and culture.
To tie in with the Dias de los Muertos theme, Wolf is helping the center create a large traditional ofrenda, or altar. Ofrendas are created to remember and honor deceased loved ones and ancestors. They include a range of colorful, festive flowers, foods and decoration, including photos. Anyone who would like to have a loved one's photo included in the display is asked to drop by a small framed image and any objects they'd like displayed with it before Nov. 2.
The Pendleton Center for the Arts hosts the Gala Auction every other year to raise funds that support the free art and music programming that the non-profit provides for the community, including the popular Rock & Roll Camp. Previous Gala themes have included Paris, Tuscany, Spain and Brazil. In 2020 the Gala was held in an online format.
"This event is essential to the fiscal stability of the organization," said Lavadour. It's only by showing that the community supports an organization that we can approach larger donors."
Foundation grants are often specifically restricted from paying for lights, heat, maintenance, staff salaries and other nuts and bolts expenses. Additionally, many program grants require a dollar-for-dollar match from the local community.
"The Gala Auction helps us raise those important funds while having a great party in the process," she added.
Silent and live auction items include outdoor adventures, and foodie delights. Artwork by local favorites will be featured alongside gift certificates from Pendleton's best restaurants, and quality merchandise from local businesses. Mireya de Gavia Wolf's donations to previous auctions of dinners she prepares at her home for six guests have been highly prized, and will be offered again this year.
Tickets are $45 per person or $80 for a pair and may be reserved at pendletonarts.org, by calling 541-278-9201 or by stopping by the arts center, 214 North Main.
Recommended attire is anything from casual to dress wear with traditional Mexican accessories to full-on Dias de los Muertos costumes and face paint. Silent auction and hors d'oeuvre service begins at 6 p.m. and live auction and entertainment begins at 7:45 p.m.
More information is available by calling the Pendleton Center for the Arts, 541-278-9201.