Dennis Max Wade of Hermiston passed away Friday, May 3, 2013 at home surrounded by his loving family. He was 63 and had spent more than a year battling pancreatic cancer.
He was born to Max and Barbara Wade on July 26, 1949 in McMinnville. He attended school in McMinnville, Forest Grove, Falls City, and graduated from Dallas in 1967.
Dennis served in the United States Army from July 1968 to February 1970, including a year in Vietnam.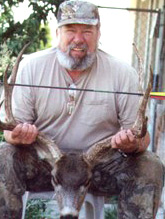 Dennis enjoyed hunting, fishing, photography, rock hounding, silver smithing, playing the banjo and creating unique walking sticks. Family and friends considered it a prized possession when Dennis presented them with one of his handmade pieces of jewelry, framed photography or hand carved walking sticks. He had a love for animals, especially his dog, Ellie. His drive to learn new things resulted in the completion of a bachelor's degree in liberal arts.
He spent the majority of his working career as a federal firefighter at the Umatilla Army Depot but also worked for the U.S. Forest Service and Department of Human Services before retiring in 2000.
Dennis married his best friend, Lorrie Goebel of Monmouth, in 1976. They started life together in Wallowa followed by a year in Kodiak, Alaska before settling for the last 32 years in Hermiston. Dennis and Lorrie had two daughters, Megan and Kati, whom he adored and admired. Both of them became registered nurses and assisted the family in his care throughout his illness.
Dennis is survived by his wife of 37 years, Lorrie; daughter and son-in-law Megan Wade Ray and Adrian Ray of Hermiston; daughter and son-in-law Kati Wade Azevedo and Matt Azevedo of Carmichael, Calif.; his mother Barbara Inman of Dallas, Ore.; brothers and sisters-in-laws Rick and Lori Wade, Ron and Niki Wade, and Alan Wade of Dallas, and Doug and Nickie Inman of Falls City. He is also survived by Lorrie's sisters and brothers-in-laws Kristy and Eddie Gifford of Independence, Julie and Tim Stine of Fremont, Calif., Tonia and Terry Dunn of Bend, and Tiffany and Chad Rush of Coos Bay, as well as 17 nieces and nephews and numerous great nieces and nephews, aunts, uncles, cousins, and many good friends.
He was preceded in death by his stepfather, Art Inman and brother Randy Inman.
Dennis will forever be remembered for his quick wit, sense of humor, and love of nature. His most prized possession was the love of his family and friends.
A joyous private celebration of Dennis' life will be in Hermiston on June 29, 2013.
In lieu of flowers, donations may be made to the Pancreatic Cancer Action Network (pancan.org) or Vange John Memorial Hospice, 645 W. Orchard Ave., Suite 300, Hermiston, 97838.
Please send condolences at burnsmortuaryhermiston.com
Burns Mortuary of Hermiston is in care of arrangements.