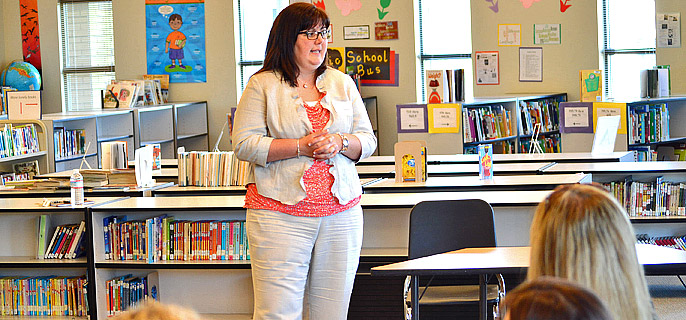 The staff at Desert View Elementary School met their new principal Thursday afternoon – they just don't know who he or she is yet.
The five finalists for the school's principal position each took turns Thursday answering questions from the staff. Those finalists are Pendleton High School Assistant Principal Brad Bixler; Michael Roberts, assistant principal at Housel Middle School in Prosser, Wash.; Sarah Crane-Simpson, special education director for the Intermountain Education Service District; Patrick Couture, assistant principal at Phoenix-Talent Middle School in Talent; and Lisa Darnold, principal at Sweetbriar Elementary School in the Reynolds School District.
Whoever is selected will replace current Principal Mike Scott. Both Bixler and Roberts were recent finalists for the West Park Elementary School principal position.
Bixler was asked how we would establish strong leadership at a school with a strong staff.
"Coming into a school with a strong staff, you have to recognize that communication is key," he said. "I've never walked into a situation and felt I knew everything." Bixler said he would spend time getting to know the staff, parents and stakeholders within the community.
Bixler said he values academic excellence and supporting teachers in the classroom. He said he would show his support by providing them with programs that build academic success in students. He said he also believes in the importance of professional learning teams.
"That, in itself, is the biggest, most powerful thing in education," Bixler said.
When asked how he would handle a parent's concern with a particular staff member, Bixler said he would "drop into listening mode big time. You've got to get the information quickly and then quickly decide what you're going to do."
Bixler has been in education since 1988. Since 2008, he has served as the assistant principal at Pendleton High School. Prior to that, he spent seven years as a fifth-grade teacher in the Pendleton School District.
Prior to becoming an assistant principal, Roberts was a middle school and high school teacher, primarily in the language arts and social studies disciplines. When asked how he would handle behavioral problems with students, he said he would talk with the child about the problem and the choices he or she made that resulted in their visit to the principal's office.
"It's a process of trying to get the student to recognize where they made mistakes and get them to see there are better choices," he said.
Roberts was asked about his process for dealing with varying opinions among staff on important matters.
"I'd want to know if it's really a case of varying opinions, or is it a couple of people who are really loud," he said. But if the staff is truly split on something, then he would work to build consensus.
"There's only one reason anyone is in this building and that's to do what's best for the kids," he said.
Roberts was also asked his opinion on the Accelerated Reader (AR) program. AR programs allow students to read books at their own level, and then take short quizzes on them.
"It's one of those things that's had its time," he said. "There are less and less tests made for it and less and less books that go with it."
Crane-Simpson said the AR program is great for kids to do on the side, but "I don't think it's an instructional strategy."
When dealing with a divided staff, Crane-Simpson said she likes to seek out everyone's input and ideas.
"At some point, I will choose what make the most sense as a school," she said. "And what feels really right to some will feel really wrong to others, but the bottom line is what's best for the kids."
Regarding the use of technology in education, she has seen it used in Hermiston schools, particularly the use of iPod Touches and has witnessed how engaged students can be with new technology.
"I love instructional technology," she said. "But I don't love technology that says, 'Well, we've got five minutes – play with your iPad.' It needs to be instructional."
She spent her first seven years in education as an elementary and special education teacher and was awarded Teacher of the Year in Amarillo, Texas. Before stepping into her current administrative role, Crane-Simpson served as a school coach and behavioral specialist.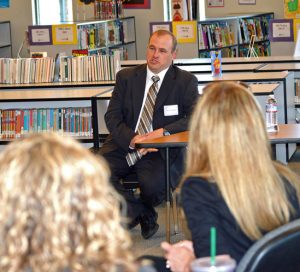 Couture said he wouldn't come into the job with an immediate list of changes he would make.
"It's not until I see what's going on in the classroom and what's going on in the community – that's when I can start making plans for the school," he said. He said his style is to be open and transparent with his staff.
When it comes to disciplining students, Couture said he is an advocate of the Positive Behavioral Interventions and Supports (PBIS) approach.
At his current school, Couture said he uses positive referrals as much as discipline referrals to recognize students for good behavior.
Building relationships with students is important, as well, he said.
"It's about being in the hallways and out on the playgrounds and visiting with the students," he said. "Just being there builds relationships and makes it much easier in dealing with behavioral problems."
Couture, a 1993 graduate of Hermiston High School, said he supports the Hermiston School District's proposal to adopt a weekly early release or late start in order to give more time for staff development.
"That, to me, is huge – having consistent time for professional development," he said.
Darnold said the first thing she would do as principal would be to find out "what makes Desert View hum and where does the synergy lie." She said she would spend time seeking input from staff, parents and community members.
She said she likes to be in classrooms as much as possible to see what the teachers are doing.
"I love to dialogue with the teachers to see what's working well and see if any interventions are needed," she said.
When dealing with upset parents, Darnold said listening is more important than talking and that she would try to facilitate communication between the teacher and parent.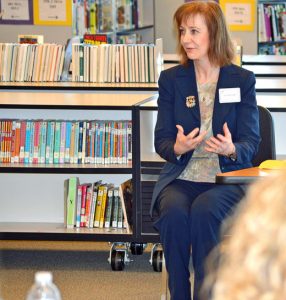 Darnold said she has plenty of experience in dealing with divided opinions among staff.
"Working to consensus is critical," she said. "We've got to get that buy-in to move forward."
Regarding the AR program, Darnold said it encourages students to read independently.
"I think it's a great tool in combination with a multitude of systems in teaching literacy," she said.
Hermiston School Superintendent Dr. Fred Maiocco will make his recommendation for the Desert View principal position from among the five finalists and the Hermiston School Board will have the final say.