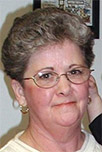 Diana Sue Mills of Boardman died on Nov. 25, 2022 at Kadlec Hospital in Richland, Wash. of heart failure at the age of 76.
She was born on Sept. 25, 1946 in Harrisonville, Mo. She was one of four children born to Harry C. and Bernice M. Cummins Holaday.
Diana touched the hearts of many people in her life. Whether it was as a waitress or cashier, she was kind and caring. Her grandchildren adored her, and the younger great grandchildren call her "Ba Nanna," which started as "Nanna," short for Grandma Diana. She loved to crochet and made many items, especially for family and friends. Diana often helped her friends by taking care of things in their absence. She loved her yard, and her home was always meticulous.
She was married three times – in 1963 to Nick D. Lewis of Blackfoot, Idaho for 15 years, in 1979 to Loyal D. Neihart (deceased) of Blackfoot, Idaho for nine years, and in 1999 to Philip J. Mills (deceased) of Tacoma, Wash. for nine years. Upon becoming a widow, she decided to move closer to her daughter and grandchildren in southeastern Idaho. She then followed her daughter to Boardman, where she lived the remainder of her life.
Survivors include her daughter, Alesia A. Sterner (Victor) of Boardman; two sisters, Sandra K. Collings (Gary) of Harrisonville, Mo. and Ruth A. King of Tumwater, Wash.; two grandchildren, Brittany D. Gunter (Travis) of Stites, Idaho and Nathaniel C. Sterner (Allison) of Chandler, Ariz.; six beautiful great grandchildren, Taylor R. Kulp, Boardman, Abigale A. Gunter of Stites, Idaho, Grace M. Gunter of Stites, Idaho, Grafton R. Sterner of Chandler, Ariz., Brianna N. Gunter of Stites, Idaho and AnnLeigh R. Sterner, Chandler, Ariz.
She was preceded in death by her parents and one brother, James R. Holaday.
A celebration of life service will be held on Friday, Dec. 2, 2022 from 10 a.m. to noon at the Boardman Senior Center at 100 Tatone St.
In lieu of flowers, please send donations to the Boardman Senior Center.
Please share memories of Diana with her family at burnsmortuaryhermiston.com.
Burns Mortuary of Hermiston is in care of arrangements.