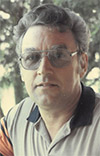 Merlyn L. "Digger" Ostrander died on Oct. 6, 2022 at his home in Hermiston at the age of 82.
He was born on Oct. 28, 1939 in Oregon City to Lloyd and Mary Rogers Ostrander.
Digger was raised and attended school in West Linn, graduating from West Linn High School. He served in the Oregon National Guard from 1956 until 1958, when he enlisted in the United States Air Force. He served in the K9 unit until his honorable discharge in 1962. Merlyn married Donna Lee McAlister on Aug. 6, 1959 in West Linn.
He worked as a clerk at an outdoor store and worked in construction in Oregon City before moving to Eastern Oregon in 1977, where he had lived since. Digger owned and operated a construction business for several years before going to work for the Hermiston School District. He retired as the superintendent of maintenance and janitorial for the Hermiston School District in 2002.
Digger and Donna fostered 28 foster babies through the years. He enjoyed woodworking, roping, hunting, fishing and anything family. He loved family get-togethers for the holidays or anytime for fun. Digger was so loved and will be dearly missed by all.
He is survived by his wife of 63 years, Donna Ostrander; daughters, Debbie McCann, Tandy Rehberg and husband Mike, Katy Chaffin and husband Curt, and Jill Johnson and husband Donny; son, Bo Ostrander; sisters, Sharon Chamberlin and husband Chuck and Diana Starr; grandchildren, Kayla, Tara (Tad), Trista (Mark), Larry, Hailey, Colten, Blaine and Dalton; great grandchildren, Dominic, Zoe, Summer, Quintin, Jordynn and Jenna; and numerous nieces and nephews.
Digger was preceded in death by his parents; a daughter, Tammy Morin; niece, Laurie; and great nephew, Andy.
A celebration of life service will be held on Saturday, Nov. 12, 2022 at 1 p.m. at the Harkenrider Senior Center, 255 N.E. Second St., Hermiston.
A graveside service with military honors will be held on Monday, Nov. 14, 2022 at 2:45 p.m. at Willamette National Cemetery, Portland.
Digger's family wishes to thank Vange John Memorial Hospice nurses and staff for their wonderful care, guidance and compassion.
Please share memories of Digger with his family at burnsmortuaryhermiston.com.
Burns Mortuary of Hermiston is in care of arrangements.